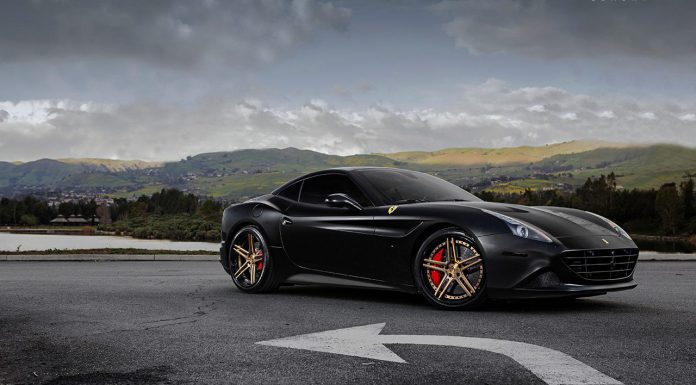 The team at AG Luxury Wheels has just unveiled one of the first Ferrari California T's installed with a set of aftermarket wheels. While not the most beautiful wheels we've ever laid eyes on, they certainly make the Italian sports car stand out more than it typically would when left stock.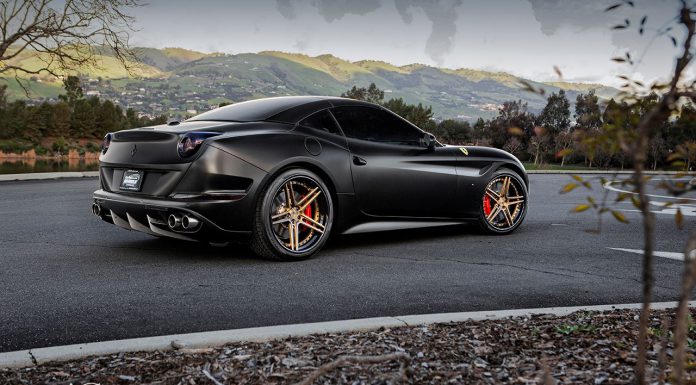 The wheels themselves feature a five twin-spoke design with bright gold spokes and exposed hardware. Additionally, red brake calipers have been fitted. Beyond the wheels, this particular California T is noteworthy for its satin black finish and heavily tinted taillights.
Beneath the skin, the Ferrari California T comes fitted with a twin-turbocharged 3.8-liter V8 engine, with the 'T' in the name standing for 'Turbo'. This engine is closely related to the same unit available on the latest Maserati Quattroporte. However, for the Ferrari California T it has received a significant power boost and now delivers an impressive 552 hp at 7,500 rpm and a mega 755 Nm of torque at a relatively low 4,750 rpm. As a result, the new California T can launch from a standstill to 100 km/h in a mere 3.6 seconds. The car then continues to accelerate to its top speed of 316 km/h.