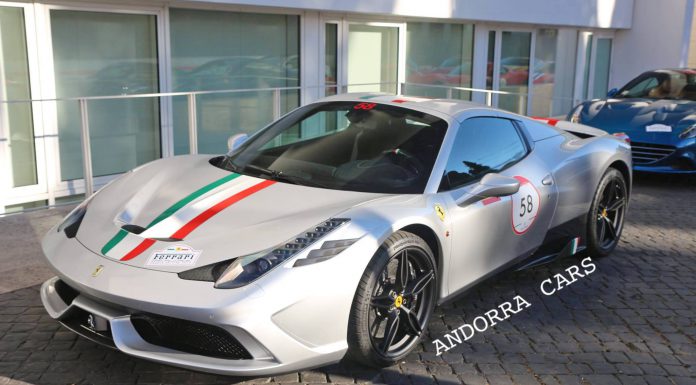 Limited to a mere 499 examples, the Ferrari 458 Speciale A is one of the rarest modern cars produced by the Italian manufacturer. Additionally, it just so happens to be the last model created by Ferrari ever installed with a naturally-aspirated V8 engine. Consequently, it will inevitably become a collector's item in the coming decades and skyrocket in value.
It remains to be seen how many units have been delivered around the world but Andorra recently welcomed its 3rd Speciale A and this one is particularly noteworthy. While many others feature brightly coloured paint jobs, this unit is painted in a more subtle and refined shade of silver.
Offsetting the silver and really making this Speciale A stand out is the Italian flag racing stripe running down the centre of the car. Additionally, gorgeously stealthy matte black wheels have been fitted as have a number of carbon fibre components like the side skirts.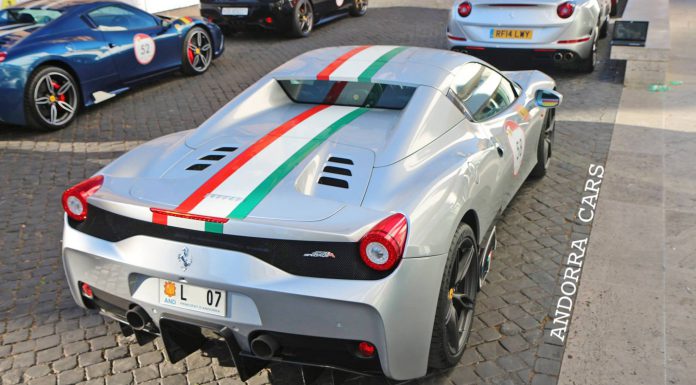 As a reminder, the Ferrari 458 Speciale A features the most powerful naturally-aspirated road-going V8 engine ever built by the Italian marque. The engine, which is the last naturally-aspirated engine that Ferrari is building, produces a colossal 597 hp and 540 Nm of torque at 6000 rpm.
All this power means the Speciale A sprints from 0-100 km/h in just 3.0 seconds, the same as the Speciale Coupe, and has a Fiorano lap time of 1 minute 23 seconds, again identical to the Coupe. The Speciale A is also the most aerodynamically efficient topless Ferrari ever made and it sure looks fantastic with the two beautifully crafted buttresses behind the occupants heads.