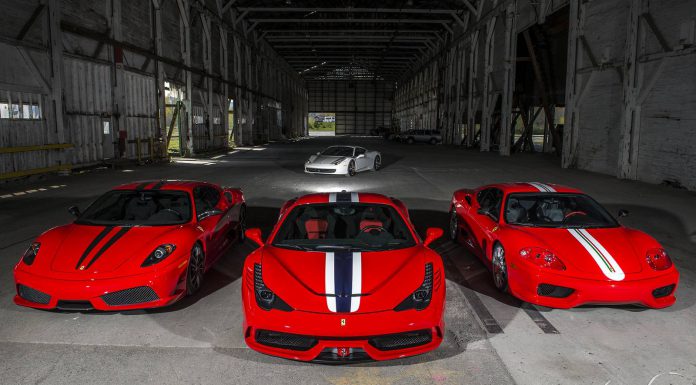 The old Weyerhaeuser facility in Snoqualmie, Washington, provided the perfect backdrop for a photoshoot of three iconic Ferrari vehicles- the 360 Challenge Stradale, 430 Scuderia and the 458 Speciale.
While the three cars have red exterior paint, there was also a white 458 Italia that compliments its counterparts. This is the same facility where the crime-drama TV series, Twin Peaks (1990-91) was filmed. The large shed and the pleasant outdoors gel well with the Ferraris.
Talking about the cars, the 360 Challenge Stradale is a performance-focused vehicle based on the 360 Modena. It is powered by a 3.6-liter V8 engine capable of producing 420 hp and 373 Nm of torque. The car can sprint from 0 to 100 km/h in 4.1 seconds with a top-speed of 300 km/h. Owing to the use of carbon fibre in the cabin, it weights 110 kilograms less than the car it is based on.
The Ferrari 430 Scuderia is basically the successor to the Challenge Stradale and based on the standard F430. It was unveiled by Michael Schumacher at the 2007 Frankfurt Auto Show, with the German playing a crucial advising role in the development of the car. The Scuderia features a 4.3-liter V8 engine that can deliver 502 hp and allows the car to reach 100 km/h in less than 3.6 seconds. It has an electronically limited top-speed of 319 km/h.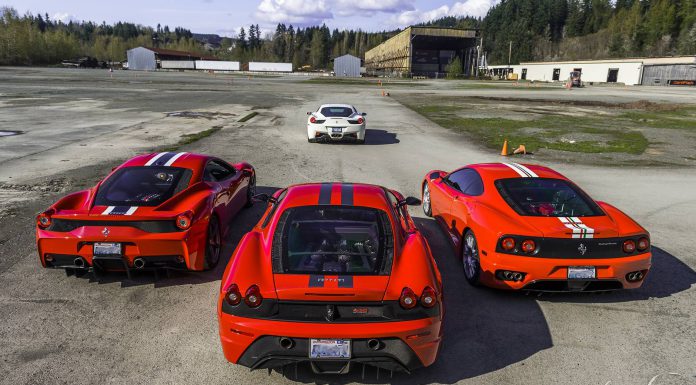 Meanwhile, there are two models of the 458 in the photoshoot. As we know, the Italia was the first of 458's and the Speciale is its performance variant. Both are powered by a 4.5-liter V8 engine.
While the Italia produces 561 hp and 540 Nm of torque, the Speciale boasts 597 hp. The Speciale can do 0 to 100 km/h in three seconds, which is 0.4 seconds faster than the Italia and both the cars can go up to the 325 km/h mark.