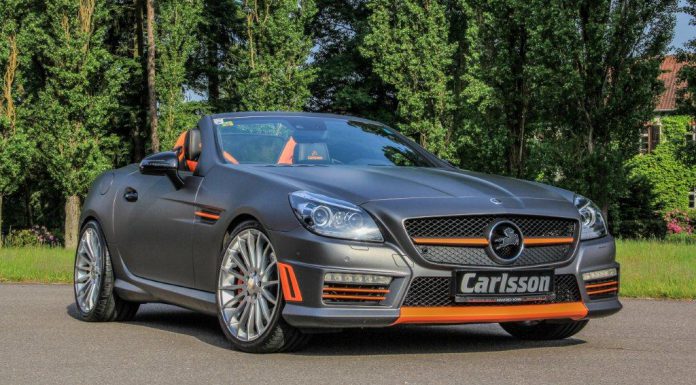 Whether or not you're a fan of their projects, there's no denying that aftermarket tuner Carlsson is responsible for some of the craziest tuned vehicles on the market and this particular Mercedes-Benz SLK55 AMG is absolutely no different.
To create the car which is now dubbed the Carlsson CSK55, the tuner installed it with a custom set of 19-inch wheels as well as a new rear bootlid lip spoiler, diffuser and a slightly revised front bumper. To make the V8-powered SLK55 AMG stand out even further, a number of fluro orange accents are featured throughout the exterior like on the front splitter, grille frame and side air vents.
Inside, the dashboard has been bathed in plush black Alcantara as has the sporty, three-spoke steering wheel. Orange stitching and piping is featured throughout as is black and orange leather on the seats.
The car's mechanicals remain standard. That means its 5.5-litre V8 continues to deliver 421 hp and 398 lb-ft of torque helping the car hit 100 km/h in 4.6 seconds.