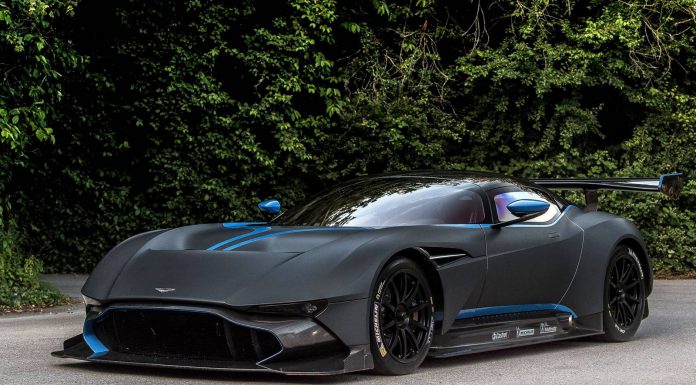 The most insane car ever produced by Aston Martin, the Vulcan, has sent heads spinning at the Goodwood Festival of Speed 2015 across the weekend. With just 24 examples pinned for production, it's unlikely that examples of the Vulcan will be displayed let alone driven in public very often.
This particular Aston Martin Vulcan is painted in matte black and looks incredibly stealthy. The matte black has then been combined with blue elements on the front bumper, bonnet, wing mirrors and side skirts. It, like so many other cars at Goodwood across the weekend, made runs up the famous hill climb in a cacophony of V12 noise.
Powering the Aston Martin Vulcan is an entirely new engine which holds the accolade as the world's most powerful naturally aspirated production engine and contrary to previous reports, it is unrelated to the Aston Martin One-77's 7.3-litre V12. In fact, it has been developed by Aston Martin Racing and is a V12 displacing 7.0-litres and delivering over 800 hp. Certain specifications about the engine remain unclear but it will reportedly help power the Aston Martin Vulcan to a top speed exceeding 320 km/h (200 mph).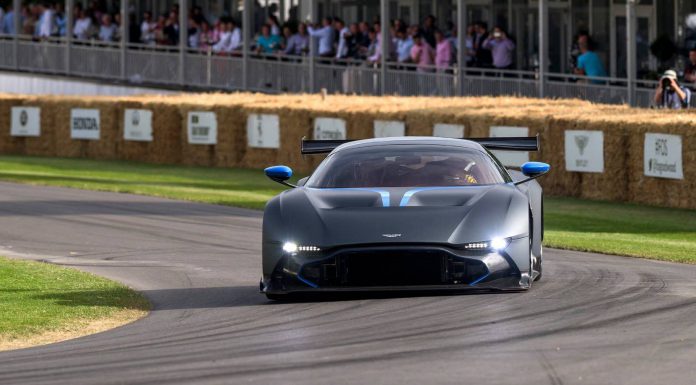 The aforementioned 7.0-litre V12 is coupled with an Xtrac six-speed sequential transmission related to the system from the Aston Martin Vantage GTE race car. Drive is then sent through the rear wheels.