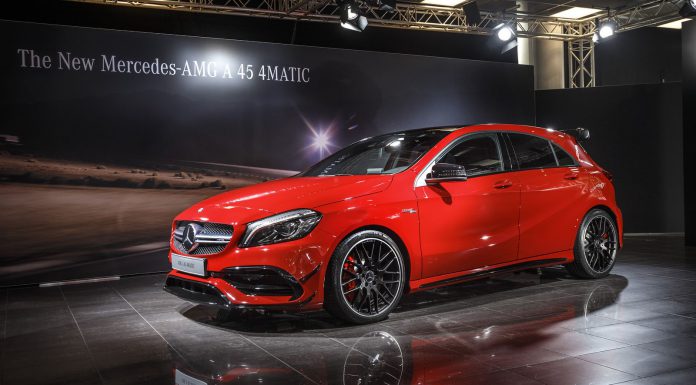 The facelifted 2016 Mercedes-Benz A-Class recently celebrated its world debut at the ongoing Goodwood Festival of Speed 2015. Just a handful of lucky people were in attendance for the car's reveal just before Goodwood but for the vast majority that missed out, here is a gallery straight from the event.
Exterior wise, the 2016 Mercedes-Benz A-Class range includes a revised front fascia. That new fascia includes subtly redesigned air intakes and a different diamond grille. Additionally, a set of new LED headlights the same as the A45 AMG have been designed. Interestingly however, they are optional for all A-Class models except the A45. Elsewhere, the facelifted A-Class includes a different rear bumper, new taillights and a different exhaust design.
As with the outgoing A-Class range, the most expensive and fastest variant is the A45 AMG. The new car features the same 2.0-litre turbocharged four-cylinder as used previously but thanks to some tweaks, it now produces 376 hp and 350 lb-ft of torque.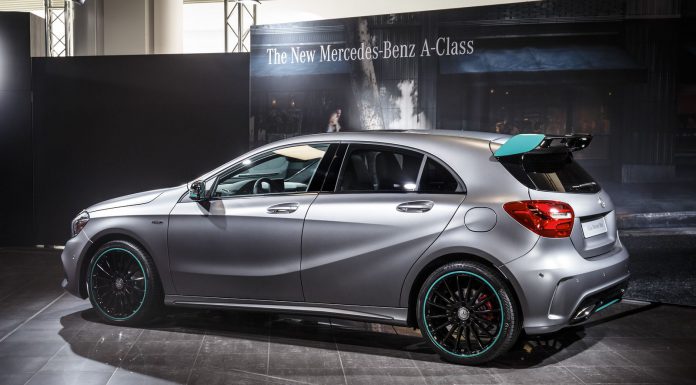 Thanks to the extra power, a revised 7-speed dual-clutch transmission and all-wheel drive, the facelifted A45 accelerate to 100 km/h in 4.1 seconds. That is 0.1 seconds quicker than the 2015 Audi RS3 Sportback and 0.4 seconds brisker than the old A45 AMG. Despite the added performance, the hot hatch still sips just 6.9-l/100 km while the top speed remains electronically limited to 250 km/h.