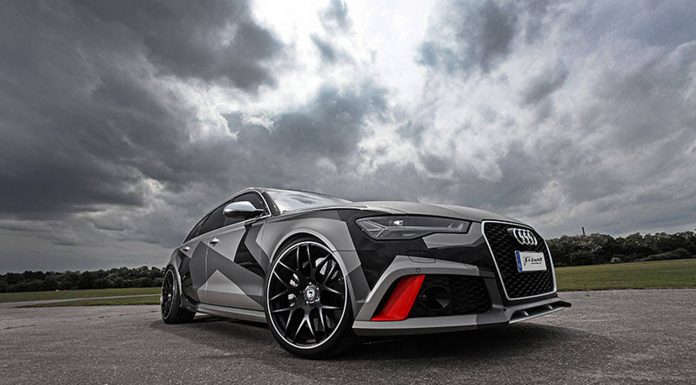 Thanks to its twin-turbocharged 4.0-litre V8 engine, the Audi RS6 Avant is an exceptional performance machine capable of out accelerating a host of much more powerful and expensive supercars. As with most performance cars, the RS6 Avant is also available with a plethora of modifications from aftermarket tuners and this latest package comes courtesy of Schmidt Revolution.
The most significant upgrade Schmidt Performance offers for the Audi RS6 Avant is a software optimisation program which lifts power from the standard 560 hp to 680 hp. Additionally, a stainless steel exhaust system can be installed which provides an additional 15 hp. Thanks to the removal of the top speed limiter, the Audi RS6 Avant from Schmidt Revolution can rocket to a 330 km/h top speed without breaking a sweat.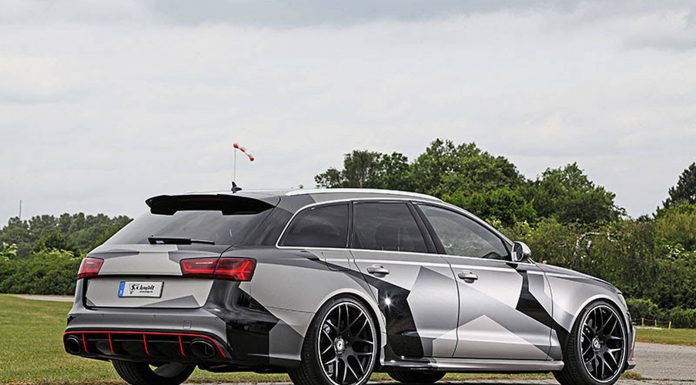 Beyond the engine and exhaust upgrades, the tuner also offers a complete KW coilover suspension system for the car for just 799 euros. Also available are a set of forged wheels measuring 21×10.5 at all four corners and wrapped in ContiSportContact SP rubber that is 295/30 at both the front and rear. The wheels have been priced at 3999 euros.
[showhide]
"AUDI RS6 with PHANTASTIC "Wheelwork" by SCHMIDT REVOLUTION
Everyone, who wants to upgrade his car by light alloy rims in sportive optics, will be in competent hands. Since many years, at the Volker SCHMIDT GmbH company in the Northern German city of Bad Segeberg – better known as SCHMIDT Revolution. It is surely not easy to find the ultimate rims among the widely varied offered product line even for the most eccentric taste, because finally, the contact between car and road is one of the most important parts of any vehicle.
For the presented here Audi RS6 Avant – meanwhile in third generation with V8 4 liters engine, bi-turbo charger, variable displacement and 4-wheels drive – the SCHMIDT Revolution crew decided for a set of Gambit rims. They will cost – besides XS5, three-part FS-Line likewise concave rims in 10.5 x 21 inch with correspondent tires ContiSportContact SP in 295/30×21 – round about 3,999.00 Euro without TPS (tire pressure sensors), at what there is speed release up to 330 kmph (205 mph) for the tires because of performance and Vmax. The installed KW coilover set demand another 799.00 Euro.
By the way, the retrofitting itself was made by BEST Cars and Bikes at Viersen, Germany. The team from the Lower Rhine has implanted an additional performance upgrade by software optimization only, including Vmax release. For a price of 3,499.00 Euro it catapults the Audi RS6 power performance from 560 serial HP (= 412 kW) up to pitiless 680 HP (= 500 kW). The also installed valve commanded stainless steel exhaust system demands 4,299.00 Euro, bringing additional 15 HP. There is to be mentioned also the individual partial car wrapping for 1,899.00 Euro, making the RS6 an exclusive "bend robber".
[/showhide]