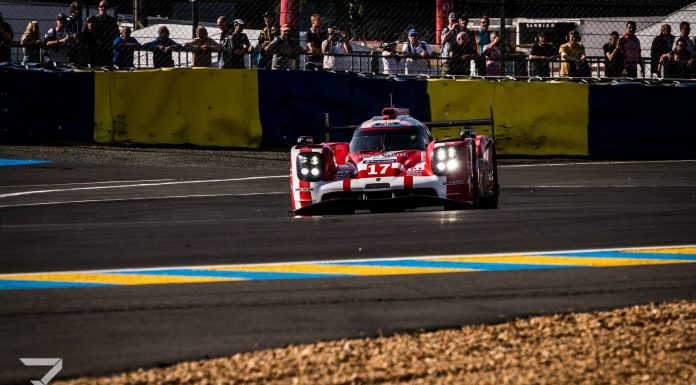 The 2015 24 Hours of Le Mans kicked off with a Porsche dominated front grid as the #18 Porsche 919 Hybrid led the field to a quiet start. A minute later the car lost the lead to the sister car #17 Porsche but that only distorted the positions among Porsche as they still held P1, P2 and P3; the Audi trio was following closely behind. The race was one car down with the #63 Corvette C7.R of Jan Magnussen missing in action after crashing out during qualifying.
The Nissan GT-R LM NISMO trio were meant to start from the back of the field but the #23 car got stuck in the garage with clutch problems. The other two cars managed to cut their way up the field soon as the race began. Aston Martin was in control of both GTE classes with AF Corse Ferrari fighting hard to take charge of GTE-Pro. Toyota couldn't keep up with Porsche or Audi but two of their cars still managed to run in 6th and 7th.
The LMP1 field was going so fast such that by the 40th minute they were already lapping LMP2 cars. After one hour the safety car was brought out when the #92 Porsche 911 caught fire. The #7 Audi R18 was closing in quickly on the two leading Porsche's in LMP1 and it managed to take them both and thereby grabbing the lead. The leadership was short lived as the car suffered a puncture losing the lead again to Porsche.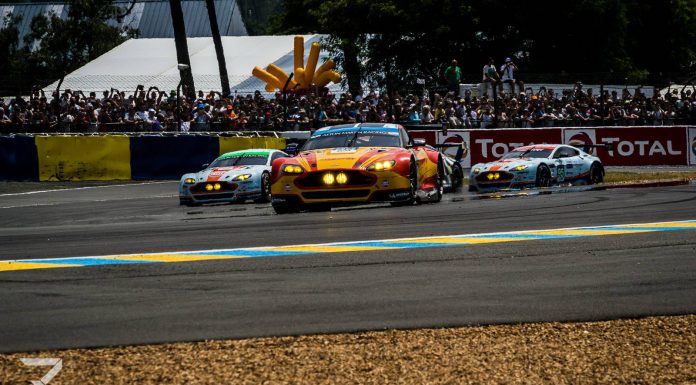 Another bad luck hit Audi when the #8 car suffered massive front-end impact after spinning hard and crashing into the barriers. The car was repaired in record time of 4:12 minutes thanks to the miracles of duct tape.
There was a long safety car period after the #8 Audi crash leaving the leadership vulnerable after restart. And so it happened, the #7 Audi managed to take the lead briefly after the race went back to green but the #17 Porsche sneaked back to the top. The #18 Porsche is currently in P3 leading the #9 Audi which is being trailed hard by a trio of Toyota TS040 Hybrids.
The Top 10 so far: