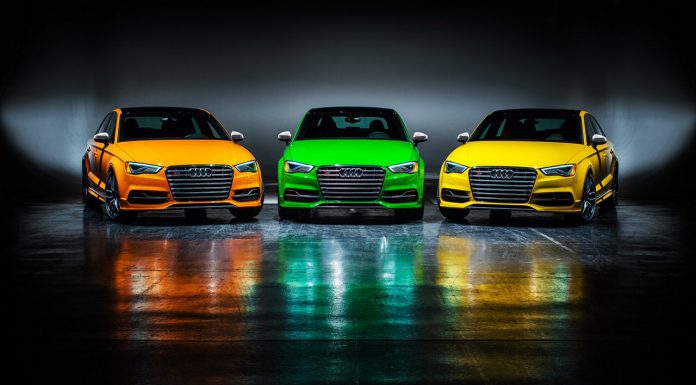 Audi's Exclusive division has just unveiled a limited run variant of the S3 sedan for the American market. Officially dubbed the Audi S3 Exclusive Edition, a mere 25 examples will be created.
Differentiating the S3 Exclusive Edition from lesser S3 models are mainly the special paint finishes. These are Glut Orange, Viper Green, Misano Red, Sepang Blue and Vegas Yellow. Just five examples will be produced in each colour. Of course, the exterior finish isn't the only point of difference with the Audi S3 Exclusive Edition.
In the cabin, the cars are adorned with colour-matching interior stitching and accents throughout the interior, particularly the door panels. Additionally, the seats and armrests are now finished in the finest Nappa Leather. The Prestige Package also comes standard as do a set of special 19-inch alloy wheels.
The Misano Red and Sepang Blue models have been priced at $57,250, which is a scarcely believable $16,150 jump over the standard Audi S3. As for the Glut Orange, Viper Green and Vegas Yellow models, they command a $59,900 sticker price.