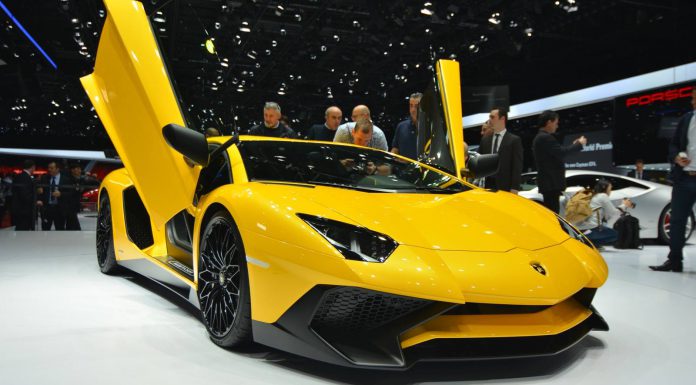 Just three months after the potent Lamborghini Aventador LP750-4 SV debuted at the Geneva Motor Show 2015, Lamborghini announced all Lamborghini Aventador SVs have been allocated.
Not long after the car debuted, the Italian marque revealed that 600 units would be produced. It has since been confirmed that 200 have been allocated to North and South America, 200 to Europe, the Middle East and Africa and the remaining 200 will be heading to Asia Pacific countries. The Aventador SV's production run is significantly larger than the Murcielago SV's which only saw 375 announced, but just 186 examples produced.
For customers who are still trying to get their hands on a Lamborghini Aventador SV don't give up hope. Although Lamborghini announced all units are allocated and the total batch of 600 SVs technically has been accounted for, there are still Aventador SVs for sale at individual dealers. So if you are still looking for a brand new Lamborghini Aventador SV give a few dealers a call and you might still be one of the lucky buyers.
The Lamborghini Aventador LP750-4 SV sports the same powertrain as the regular Aventador. Its 6.5-litre V12 engine gets a modest power boost of 50 hp together with a weight reduction of 50 kg. The top speed is now 350 km/h and the 0-100 km/h time drops from 2.9 seconds to 2.8 seconds. Torque remains at 507 lb-ft at 5,500 rpm and peak rpm rises to 8,500 rpm.
The aforementioned weight reduction is achieved through the use of carbon fibre for parts including the engine bay cover, rear wing, wing panels, interior door panels, bucket sports seats and air intakes. Carpets and noise insulation have also been taken out, as has the multimedia system which can be put back in at no extra cost.
As it stands, only European and American pricing for the Aventador SV has been announced. In Europe, customers will have to cough up at least 327,190 euros while in the U.S. it costs a minimum of $493,069.