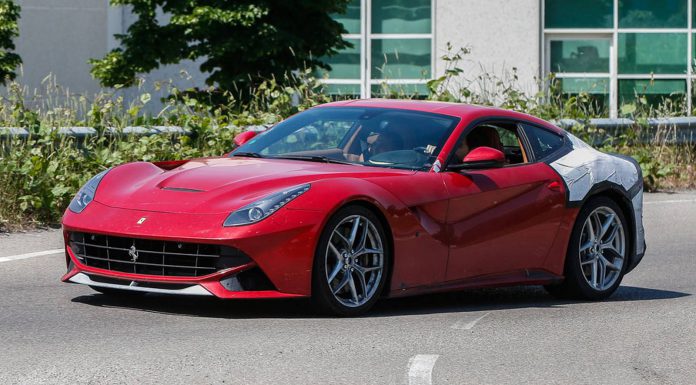 As hard as it may be to believe, but the potent Ferrari F12 Berlinetta debuted over three years ago at the Geneva Motor Show in 2015. Now the first spy shots of the facelifted F12 Berlinetta have emerged online along with a tentative new Ferrari F12 M badge.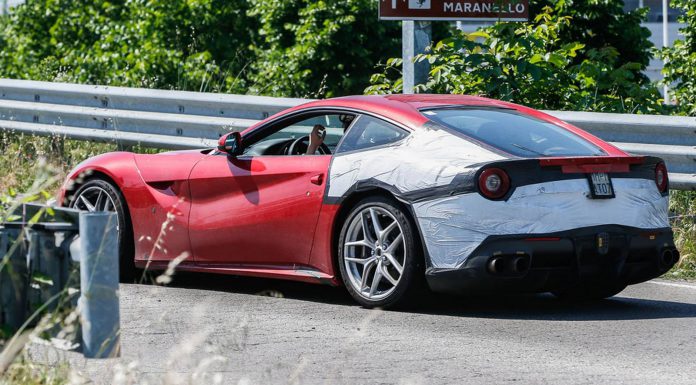 Reports claim that the facelifted Ferrari F12 will debut at the Geneva Motor Show 2016 in March. Interestingly, the following prototype features an identical front-end to the existing F12 while the rear-end is wrapped in white camouflage. Consequently, it is inevitable that the facelifted F12 will receive updated styling at the back but it seems likely some changes will be adopted up front despite not being present on this tester.
At the rear, it is inevitable that the facelifted and possibly newly named Ferrari F12 M will feature a different bumper. Additionally, changes could be made to the rear quarter panels. While the following test mule features the same taillights as the current car, we wouldn't be at all surprised to see ones closely resembling the 488 GTB's redesigned units on the new F12. If changes are adopted at the front, they are likely to consist of a subtly redesigned bumper and different headlights.
Beyond the styling changes, the Ferrari F12 M should receive some minor mechanical modifications. Most notably, power from the screaming naturally-aspirated 6.3-litre V12 engine is expected to be lifted from the current 740 hp to the fabled 750 hp mark.