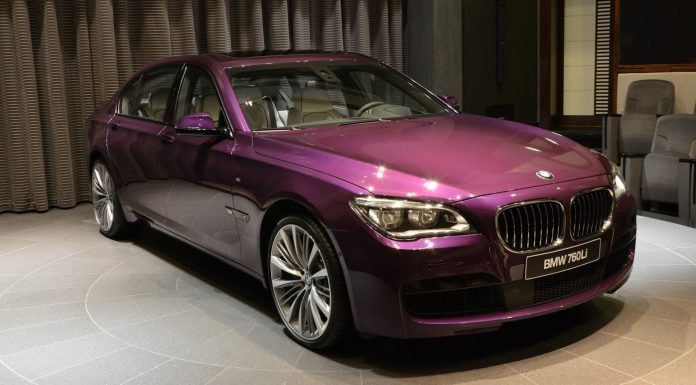 One of the most interesting BMW 7-Series models we've ever laid eyes on is currently on display at the BMW Abu Dhabi dealership.
The car is a 760Li and it has been painted in a colour dubbed Twilight Purple. Purple is a rare colour for any car but the 7-Series manages to pull it off quite well. Alongside the exterior finish, this 760Li includes an Opal White Merino full leather interior complete with the M Sports package, a Bang & Olufsen sound system and the rear-seat entertainment package with large 9.2-inch monitors. Final elements include Piano Black trim throughout.
As with all BMW 760Li's, this one features a 6.0-litre twin-turbocharged V12 engine delivering 544 hp and 554 lb-ft of torque. Consequently, it is able to rocket to 100 km/h in a very respectable 4.6 seconds despite tipping the scales at a hefty 2250 kg.