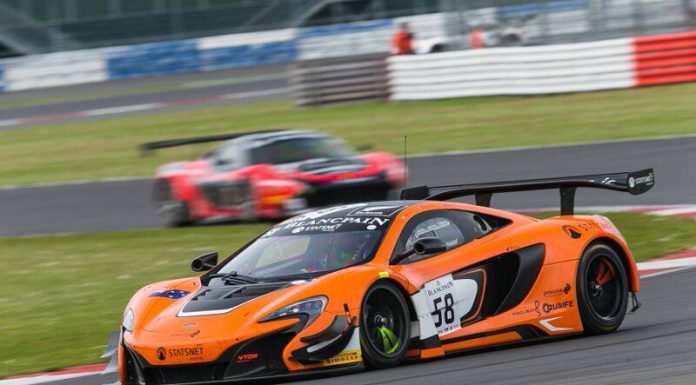 The McLaren 650S GT3 scored its maiden win in the Blancpain GT Series this weekend at Silverstone courtesy of Von Ryan Racing. The #58 car piloted by Rob Bell, Shane Van Gisbergen and Kevin Estre won round two of the Blancpain Endurance Series to lead reigning champions of the #1 Belgian Audi Club Team WRT Audi R8. Third place overall went to the #3 Belgian Audi Club Team WRT Audi R8.
The #23 Nissan GT Academy Team RJN GT-R had started from pole after winning qualifying session with Rob Bell starting in P2 in the #58 McLaren 650S GT3. The race was stale for almost 45 minutes with no lead changes until a stranded #16 Akka ASP Ferrari 458 Italia caused a Full Course Yellow situation. This was the game changer for the McLaren as they decided to pit during this period and once the first round of pit-stops was complete they had a 42 seconds lead over the #1 Audi R8 LMS.
The #75 ISR Racing Audi R8 LMS utilized another Full Course Yellow-situation and managed to move into P2 only to be pushed down into P3 by Laurens Vanthoor in the #1 Audi R8 LMS. The second Von Ryan Racing McLaren 650S GT3 was taken out of contention after making contact with the #8 Bentley Continental GT3 leaving the fight for third to the #3 Audi R8 LMS and the #75 ISR Racing Audi R8.
Video Highlights:
The fight for P3 in PRO class was decided when the ISR Racing Audi was slammed with a 5-second penalty for disrespecting track limits. Elsewhere in the PRO-Am class Joe Osborne in the #888 Triple Eight Racing BMW Z4 deployed a similar strategy as Von Ryan Racing during the Full Course Yellow situation and even managed to jump into P3 overall. His luck was cut short after a second pitstop, the lead was snatched by the #32 Leonard Motorsport AMR Aston Martin which flashed across the line ahead of the #22 Nissan GT Academy Team RJN GT-R and the #14 Emil Frey Racing Jaguar.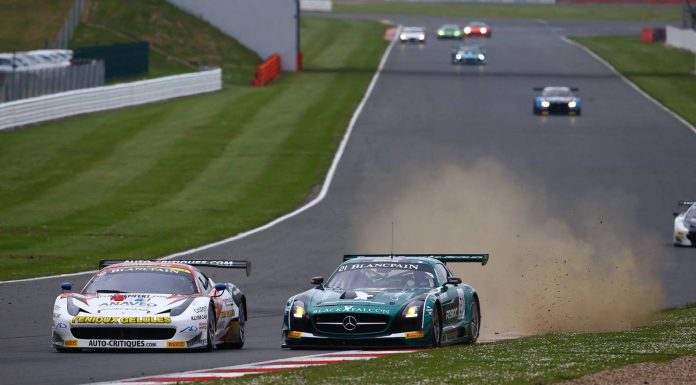 Pole winner in the Am class Fabien Barthez lost the wheel of his #16 Akka ASP Ferrari during the early laps allowing the #15 Boutsen Ginion BMW Z4 to take the win. Second and third places in this class went to the Ferrari's of Glorax Racing and Sport Garage. Next race of the Blancpain GT Series will be Round 3 of the Blancpain Sprint Series at Zolder Circuit in Belgium.
Top 20 results