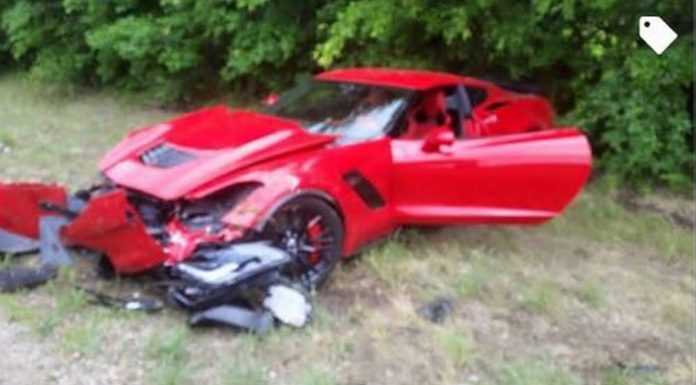 A brand new red Chevrolet Corvette Z06 has been rather severely damaged after crashing in the midst of an acceleration run.
Caught on tap, the video shows the American muscle car launching along a deserted road. Evidently fitted with the available seven-speed manual transmission, it seems apparent that the rear tyres lost traction when shifting into second gear.
[youtube]https://www.youtube.com/watch?v=Wqtl7fXDKu4[/youtube]
Not long after the wheels loose grip, the Corvette Z06 spears off the road and into nearby trees extensively damaging the car's front end. Although unconfirmed, it seems as though the driver didn't countersteer fast enough when the tail kicked out therefore resulting in the crash.
While the damage to the front is quite comprehensive, it will be repairable but it won't be cheap. The bonnet has been damaged as have the headlights, front bumper, splitter and front quarter panels. Additionally, it seems evident that some mechanical damage would have been sustained to the radiator and intercooler.