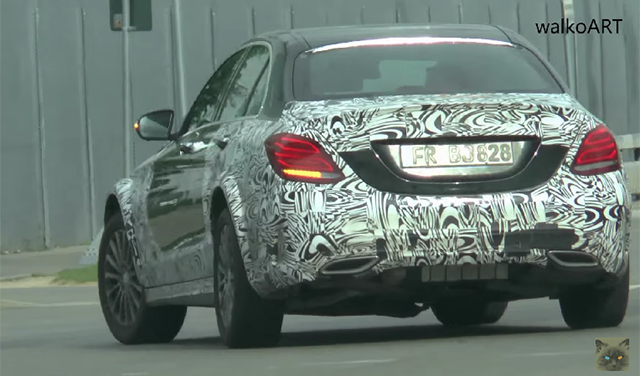 A curious Mercedes-Benz C-Class has been spied in the midst of testing under light camouflage. Considering that the range-topping AMG model has already been launched, it is yet to be confirmed about what this test mule is a preview for.
[youtube]https://www.youtube.com/watch?v=vvSYSdblT8M[/youtube]
Two key points of difference separating this C-Class tester from existing C-Class variants are the flared and extended front and rear wheel arches as well as a small bootlid lip spoiler. Alone, these two features could hint at a new performance-oriented model. However, the prototype is riding on a set of relatively small wheels and therefore includes smaller brake calipers and discs than the range-topping Mercedes-AMG C63.
One further suggestion is that the C-Class prototype in question also features a slightly longer wheelbase than the standard car. As a result, there's a possibility it will indeed by a long-wheelbase C-Class model offered to a select few markets. Alternatively, it could be a very early test mule of a new CLC four-door coupe disguised as the current W205-generation C-Class.
Whatever the case may be, Mercedes-Benz evidently has something exciting up its sleeve!