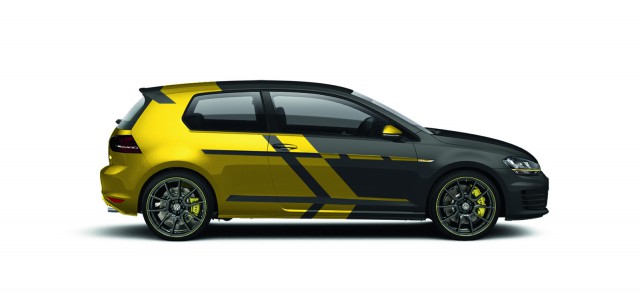 Prior to its unveiling at the annual Worthersee meeting on May 14, a number of sketches and pictures of the upcoming Volkswagen Worthersee GTI 2015 project have been released. The car has been created by a number of VW apprentices.
Specific details about the Worthersee GTI 2015 project have yet to be released but one of the sketches reveals that it will feature a black and yellow paint scheme. Additionally, it will include large yellow brake calipers, tinted headlights and taillights as well as gunmetal grey alloy wheels. Many of the special Golf's panels will be hand painted and hand crafted, in particular the bodykit.
Discussing the car, project manager Holger Schulke said "The apprentices opted for an innovative color scheme and realized it with considerable skill and precision – both on the exterior and in the interior of the vehicle. In the case of attachments like sills and spoilers, absolute precision and fully matching colors are essential. Everything must harmonize with the body. Our budding specialists solved all these problems highly effectively – by working very accurately."
The team building the car consists of four women and nine men aged between 17 and 25 years old.