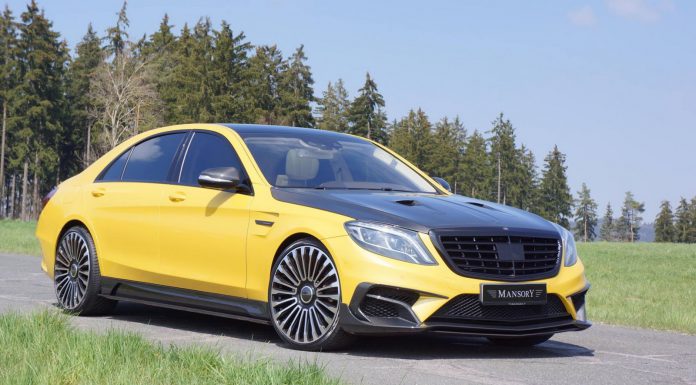 One would think that any car tuned by Mansory is about as bold and in-your-face as a car can get. After all, the tuner has made a name for itself with its outlandish creations for a selection of the world's most performance-oriented cars with the Mercedes-Benz S63 AMG being one of the most recent. Initially shown in gloss black, Mansory has just completed work on another S63 AMG sedan and thanks to the bespoke finish of this example, it is even more eye-catching and worthy of discussion.
Seeing a bright yellow Mercedes-Benz is rare and seeing a bright yellow tuned Mercedes-Benz is even rarer but that's exactly what the following Mansory S63 AMG is. Alongside the yellow paint scheme, it has been adorned with a carbon fibre hood, carbon fibre side skirts, carbon front bumper as well as an aggressive rear diffuser also constructed from the lightweight material.
Completing the exterior modifications are the inclusion of a subtle bootlid lip spoiler (once again made from carbon fibre), as well as silver multi-spoke wheels and a gloss black roof. The resulting package is not only unique but gives the S63 AMG an entirely new sense of purpose.
Power wise, two different packages are offered for the Mercedes-Benz S63 AMG when tuned by Mansory. The M800 package boosts power from the V8 all the way to 800 hp at 4750 rpm while torque has been increased to an electronically limited 1200 Nm between 1700 and 3500 rpm. When it is all said and done, a Mansory Mercedes-Benz S63 AMG with the M800 power pack rockets to 100 km/h in a mere 3.6 seconds compared to the 4 seconds of the stock car.
As for the range-topping M1000 package, it pumps out 1000 hp and 1400 Nm of torque between 1500 and 3500 rpm. The extra power has been achieved through new connecting rods, big end bearings, a revised crankshaft, bearing bushings, new turbochargers, as well as a new "suction and compressor system". All told, the Mansory M1000 S63 AMG reportedly hits 100 km/h in 3.2 seconds and carries onto an electronically limited top speed of 300 km/h.