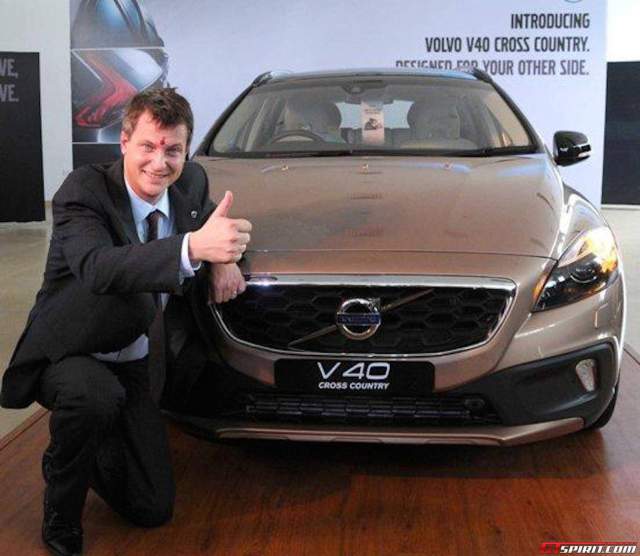 Volvo is pressing ahead to make its mark in India's booming luxury car market that has grown eight-fold over the past seven years with the German trio of BMW, Mercedes-Benz and Audi setting the pace, Volvo a late starter in 2006.
Nonetheless, Volvo Auto India ended 2014 on a high, recording 1,202 sales. Considering both Mercedes-Benz and Audi crossed the 10,000 barrier, the number seems small. But the company recorded 31 per cent growth and is hoping to capture 15 per cent of the Indian luxury car market in the "medium term".
Their target is to attain a 65 per cent increase in sales, which would mean selling more than 2,000 units during the year. In order to achieve this target, Volvo will introduce two new compact cars- the V40 hatchback and the petrol variant of the V40 Cross Country.
Audi, BMW and Mercedes-Benz have all recently banked on their compact cars to connect them with new customers in India. These cars fall in the region of INR 3 million and have hence become popular among the Indians. Twenty per cent of Mercedes-Benz's sales in India come from their range of compact cars while Audi is banking on its compact sedan, the A3, to become the "largest selling luxury car in India".
Volvo is now beefing up the competition and the V40 hatchback will compete with the Mercedes-Benz A-Class and the BMW 1 Series for market space. Volvo's V40 Cross Country, whose diesel variant is already on sale in India, will rival Mercedes-Benz's B-Class and the BMW X1. They might not seem as competitors but  have a lot in common and their similar pricing means they are pitted against one another in the Indian car market. The V40 Cross Country petrol variant will be powered by a 1.6-litre engine.
In an interview with the Economic Times, Volvo's India Managing Director, Thomas Ernberg, stated: "We set out on a growth plan a few years ago. In the past three years, we have seen our dealer footprint increase to 20 from five and sales have increased multi-fold. We should be closing the year with 2,000 cars led by the newer compact car."
Ernberg also said that "once the volumes start kicking in", Volvo may set up an assembly facility in India, which will significantly reduce the company's production cost and customer price. Currently all cars are brought in via the CBU (Complete Built Up) route with heavy taxation.
While it enjoys 12 to 15 per cent dominance over the luxury car industry in southern areas of Hyderabad and Tamil Nadu, Volvo lacks popular following in metropolitan cities like New Delhi and Mumbai. Apart from opening more dealerships in such places, Volvo also wants to increase its product portfolio – which is why it will also introduce the S60 T5 petrol and the XC 90 Hybrid in India this year.
Volvo Auto India is a subsidiary of the Volvo Car Group, owned by Zhejiang Geely Holding Group of China.
[Economic Times]