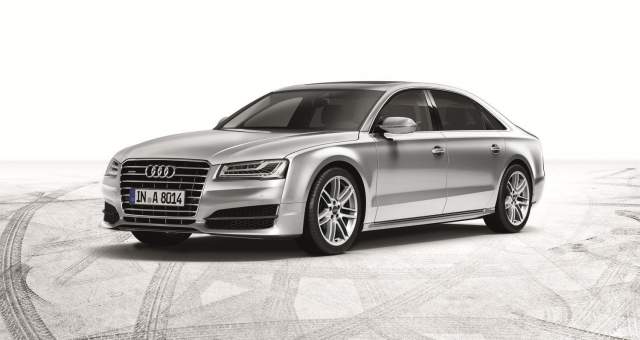 The 2016 Audi A8 range has just been introduced with the new model year welcoming an additional variant, the Audi A8 Sport.
For the 2016 Audi A8 long-wheelbase models, one engine is available. That engine is the 6.3-litre W12 powerplant delivering a total of 500 hp. For standard wheelbase 2016 Audi A8 models, a 3.0-litre TDI V6 is available with 262 hp alongside a 4.2-litre TDI V8 engine pumping out 385 hp and 850 Nm of torque. The V6 can achieve 49.6 mpg on the combined cycle while the 4.2-litre V8's fuel economy sits at 39.2 mpg.
The 2016 Audi A8 range continues to be topped out by the S8, available exclusively with the standard wheelbase and a 4.0-litre TFSI V8 engine with 520 hp on tap.
As for the aforementioned new Audi A8 Sport variant, it replaces the Sport Executive trim in the outgoing range and adopts styling reminiscent of the S8. Additionally, the A8 Sport includes custom side skirts and a set of 19-inch alloy wheels. In addition to the A8 Sport version, the 2016 model year A8 is offered in SE and SE Executive trims.
[showhide]
"More equipment for SE Executive, new Sport trim and emission improvements
New Sport specification for A8 models includes striking exterior package and long list of standard technology
3.0 TDI quattro power increases to 262PS, yet emissions fall by 6g/km to 149g/km on SE and SE Executive models
2016 Model Year Audi A8 now available to order
New look Sport versions available from June
New heights of luxury and new lows in CO2 output have just been achieved in the Audi A8 range, which in addition to further improved TDI engines and a raft of equipment upgrades also gains a striking new Sport specification with a look that references the flagship S8. The first versions of the updated 2016 Model Year A8 range can be ordered from today priced from £59,585 OTR, and the new Sport models from June. UK deliveries will start in the summer.
Offered in standard or Long Wheelbase formats, the latest range features a rationalised choice of engines. Long Wheelbase versions will continue to be available with the highly efficient petrol-electric hybrid drivetrain and with the quintessential Audi luxury saloon power source – the 6.3-litre, twelve-cylinder, 500PS W12. Another formidable petrol engine – the 4.0-litre TFSI with Cylinder-on-Demand technology – will also remain at the heart of the 520PS S8, which is available exclusively with the standard wheelbase.
A pair of TDI units powers standard wheelbase versions, and both are also available in conjunction with the Long Wheelbase body. The 3.0-litre V6 TDI benefits from a slight power increase from 258PS to 262PS and a further reduction in CO2 output from an already impressively low 155g/km to 149g/km (in conjunction with 18-inch wheel), equating to a combined economy figure of 49.6mpg. The 4.2-litre V8 TDI retains its prodigious 385PS and 850Nm of torque, enabling it to propel the predominantly aluminium-bodied saloon to 62mph in a mere 4.7 seconds (standard wheelbase) without ruling out the potential for up to 39.2mpg. CO2 output in this version also falls from 194g/km to 189g/km.
New Sport specification
The two TDI engines can be complemented by three levels of specification – SE, SE Executive and a new Sport option, which is reserved for standard wheelbase versions and replaces the Sport Executive trim in the outgoing range. Sport models are now more distinctly marked out visually by a new dynamic exterior package featuring front and rear treatments reminiscent of the flagship S8, combined with pronounced 'S' style side skirts and 19-inch alloy wheels in a seven-parallel spoke design.
Not surprisingly all three specification levels are lavish, and include features such as Valcona leather upholstery, double glazing and a 180-watt audio system, combined with advanced technology including all-LED headlights, HDD satellite navigation and the fingertip-sensitive MMI Touch infotainment control system.
Over and above the SE equipment, SE Executive versions add features such as the Audi parking system advanced with reversing camera, the advanced key for convenient locking, unlocking and starting without direct key intervention and powered, hands-free bootlid operation. New additions at this level for the 2016 Model Year include powered door closure, comfort front seats with 22-way powered adjustment and memory function and privacy glass for the rear windows.
In addition to a purposeful new look, the exterior specification of the new Sport models also includes new 19-inch seven parallel spoke alloy wheels and state-of-the-art MatrixBeam LED headlights, which use banks of LEDs that can be individually shut off to avoid dazzling oncoming and leading traffic while retaining full beam illumination. Inside, a 600-watt Bose sound system upgrade and Mobile Phone Preparation – High with Audi connect bringing in-car internet-based services and establishing a mobile Wi-Fi hotspot add to the potential for information and entertainment.
Long Wheelbase TDI, Long Wheelbase W12 and S8 models feature their own bespoke and even more all-encompassing equipment lists.
With its lightweight construction, quattro all-wheel-drive and standard four-mode adaptive air suspension the A8 has always been one of the most agile and controllable luxury saloons. A8 4.2 TDI models capitalise on these assets even more fully with the help of an additional sport differential enabling torque transfer between the rear wheels for greater adjustability, and driveability in all A8 models can be further enhanced by options such as a firmer sport version of the air suspension and a dynamic steering system."
[/showhide]