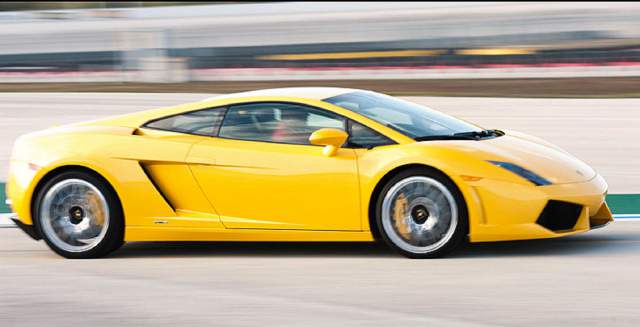 The Walt Disney World Speedway in Florida has been shut for two days after a driving instructor died when a Lamborghini in which he was a passenger hit the end of a crash barrier.
The victim of Sunday afternoon's tragedy was named as 36-year-old Gary Terry, an instructor at the Exotic Driving Experience run by Petty Holdings at Walt Disney World Speedway at Lake Bueno Vista. Cars used at the one-mile track include the 560 hp 5.2 litre V10 Lamborghini Gallardo LP560-4, pictured above, that can rocket from standstill to 60 mph in 3.7 seconds, to 100 mph in just 6.9 seconds.
Florida Highway Patrol said Tavon Watson, 24, of Kissimmee, was driving Gary in a Lamborghini when he lost control of the car, causing it to leave the racetrack and strike a guardrail on the right-hand side of the car. Pictures of the scene showed the crash happened at an access gap in the barrier. FHP's Sgt Kim Montes said the driver was taken to Celebration Hospital with minor injuries and had since been released.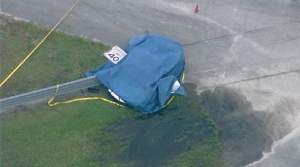 Petty Holdings introduced the exotic car experience, for the public to drive Ferraris, Lamborghinis and Porsches, four years ago. Driving packages start at $99 and can top $2,500 for a 50-lap experience. Its website says: "Designed specifically for Exotic Driving Experience, this one-mile layout runs clockwise and combines the speed sensation of an oval with the challenges of a street-style course. Your goal… to improve your performance with every thrilling lap!
"Featuring exotic cars by Ferrari, Lamborghini, Porsche, Audi, and Nissan, Exotic Driving Experience gives you the unique, first-hand opportunity to test the extreme power, speed and handling of these luxurious, supercars. Program offerings include 6-lap driving experiences with additional lap upgrades available and 2-lap Thrill Rides where you ride shotgun with a professional."
The track is operated by Petty Holdings, which has other Exotic Driving Experience attractions at speedways in Atlanta, Daytona Beach, Charlotte, New Jersey, Kansas, New Hampshire and Texas.
The Exotic Car Experience is different to the Richard Petty Driving Experience, where fans can drive NASCAR cars or ride shotgun at speeds up to 165 mph, at other venues opened since 1997.
Petty Holdings LLC issued a statement of condolence, saying: "On behalf of everyone in the organisation, it is with a very heavy heart that we extend our deepest sympathies to those involved in today's tragic accident in Orlando. Florida Highway Patrol is currently investigating the incident."
Walt Disney World Resort's spokeswoman said: "We offer our deepest sympathetic to those involved in today's tragic accident."