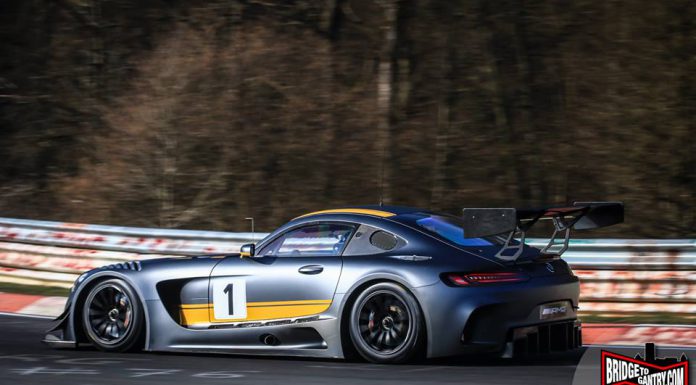 Following its unveiling at the Geneva Motor Show 2015 early last month, the first example of the 2016 Mercedes-AMG GT3 has been filmed hitting the famous Nurburgring Nordschleife race track in the heart of Germany.
It is rather surprising that the Mercedes-AMG GT3 in the following pictures doesn't feature any camouflage as this was inevitable a testing session. Nevertheless, the pictures give us our best chance to see how the Mercedes-AMG GT3 will look when it begins racing competitively later in the year.
The most surprising thing about the 2016 Mercedes-AMG GT3 is that it doesn't feature the 4.0-litre twin-turbocharged V8 engine of the road car. Instead, it uses the same 6.2-litre V8 engine as the outgoing Mercedes-Benz SLS AMG GT3. Specifications about this engine haven't been released but the German marque says the engine was chosen as it is reliable, user-friendly and has low running costs.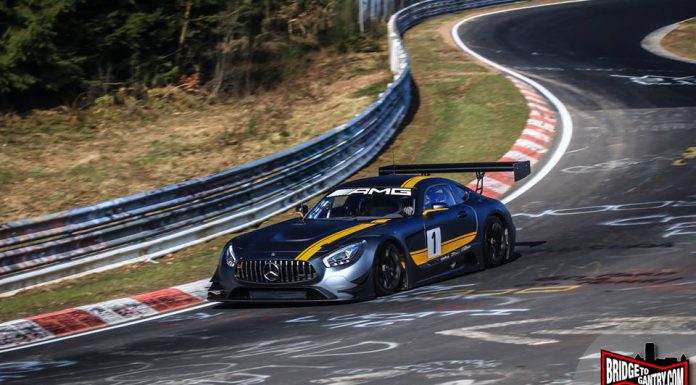 Mated to the 6.2-litre V8 engine of the Mercedes-AMG GT3 is a six-speed sequential transmission mounted in a transaxle configuration on the rear wheels. This has been done to optimise weight distribution and unsurprisingly, the power from the naturally-aspirated V8 engine is sent straight to the rear wheels.
Underpinning the Mercedes-AMG GT3 is a strong and lightweight aluminium spaceframe which also incorporates a carbon fibre seat pan as well as a roll cage constructed from high-strength steel. Compared to the road car, the racing variant now features a bonnet, doors, front wing, sidewalls, side skirts, diffuser, bootlid, rear aerofoil and front and rear aprons made entirely from carbon fibre. Elsewhere, the German manufacturer has confirmed that the AMG GT3 uses double-wishbone suspension at all four corners made almost entirely from aluminium.
[Via bridgetogantry.com]