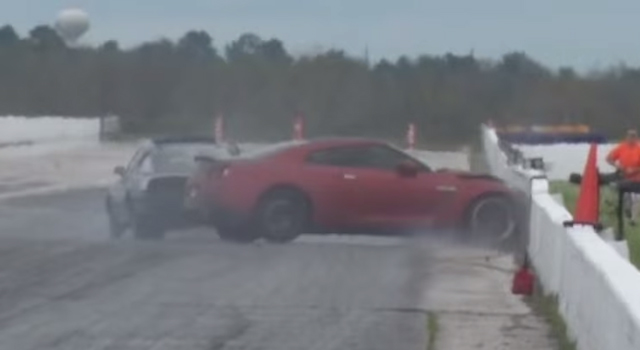 On the drag strip, few cars can come close to heavily modified Nissan GT-Rs. At the recent TX2K15 drag racing event in the U.S. however, an old Mazda RX-7 came a little too close to the red GT-R resulting in a rather serious crash.
[youtube]https://www.youtube.com/watch?v=-h_bzws5MAc[/youtube]
As the video above shows, the 1350 hp Mazda RX-7 gets off to a rocket start and seems like it will walk away with a comfortable win. However, it quickly snaps to the right under acceleration sending it straight into the path of the 1100 hp GT-R. Despite the GT-R driver's best attempt to brake, he ends up T-boning the RX-7.
After the impact, the GT-R is diverted at high speed into the concrete crash barrier resulting in even more extensive damage to the front end.
Thankfully, both drivers escaped uninjured and the cars appear repairable.