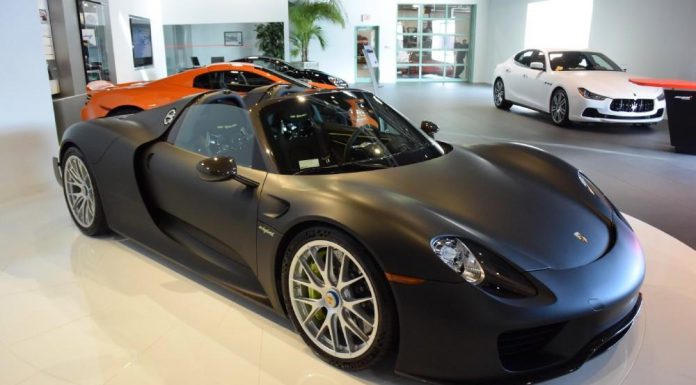 An exceptionally stealthy matte black Porsche 918 Spyder Weissach is currently up for sale courtesy of Lake Forest Sportscars in the United States.
The new Lake Forest Sportscars may be familiar with many as the dealership was recently announced as an official distributor for Koenigsegg. As for the Porsche 918 Spyder in question, it has 1848 miles on the clock and while no pricing details have been made public, it wouldn't be at all surprising if it sells for a massive premium over the base $845,000 price tag considering the German hybrid hypercar has sold out. As a matter of fact, another 918 Spyder Weissach is up for sale for $1.6 million in New York!
As mentioned, it is fitted with the optional Weissach aerodynamics package. Consequently, it includes two prominent fins on the rear bumper made from carbon fibre as well as a carbon fibre rear wing. Elsewhere, this 918 Spyder features a set of silver wheels and bright green brake calipers. The interior is then adorned in carbon fibre as well as black alcantara and leather with green piping.
As a reminder, the headline for the Weissach Package is improved performance. From zero to 100 km/h takes just 2.6 seconds, 0.2 seconds faster than the standard model. It takes just 7.2 seconds to travel from zero to 200 km/h in 7.2 seconds (a 0.5 second reduction), and 19.9 seconds to pass the 300 km/h mark (a 2.1 second reduction).