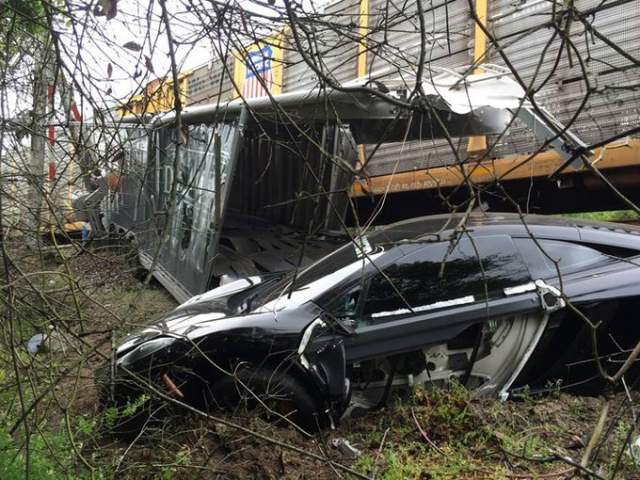 A black McLaren 12C has been destroyed after the trailer that was carrying it was struck by a train in Orange Park, Florida late last week.
The British mid-engined sports car was being transported to the local dealership for maintenance when the driver stalled his car on the train tracks. He managed to jump out and save himself before the impact but the 12C didn't fare so well.
The train smashed into the trailer belonging to the Dimmitt Automotive Group with the McLaren 12C being completely totalled with both sides suffering severe damage. More specifically, we can see that damage has been done to at least two of the wheels with the driver's side arguably suffering most from the crash.
Interestingly, the driver said that he jumped out of the car about three minutes before the low-moving train came through but was unable to get authorities to warn the train driver about the hazard. On the back of the crash, the driver has been charged by the Florida Highway Patrol with 'Insufficient Undercarriage Clearance' when he attempted to cross the train tracks in an area which prohibits the crossing of trucks.
[Via First Coast News]