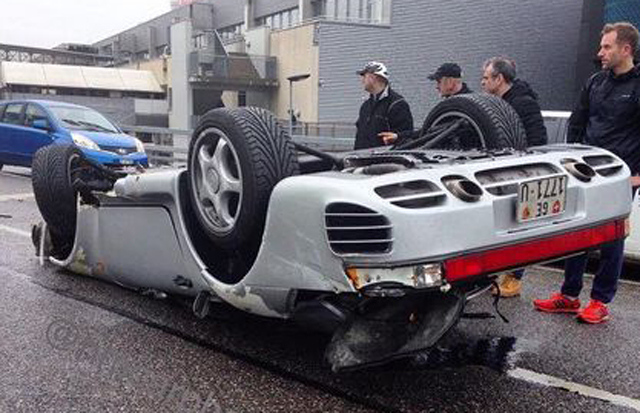 Directly rivalling the Ferrari F40 despite being launched a few years earlier, the Porsche 959 remains one of the German marque's most recognisable and iconic sports cars. Additionally, with just 337 examples created, it is also one of the rarest which makes the following Porsche 959 crash all the more heartbreaking.
Details surrounding this crash remain unclear but we know that it took place on the streets of Geneva, Switzerland and the results are immediately apparent. From the following image, it appears as though the German supercar has been completely totalled with the rear window smashed and the roof and pillars inevitably crumpled following the flip.
GTspirit review of the Porsche 959

It isn't know why or exactly how the silver 959 ended up on its roof but it is inevitable that the owner will be facing a hefty repair or insurance bill as well as a fair bit of embarrassment!
Late last year, we had the pleasure of reviewing a bright red Porsche 959. In case you didn't know, the car utilises a small, 2.85-litre flat-six engine delivering 450 hp at 6500 rpm and 500 Nm of torque at 5500 rpm.