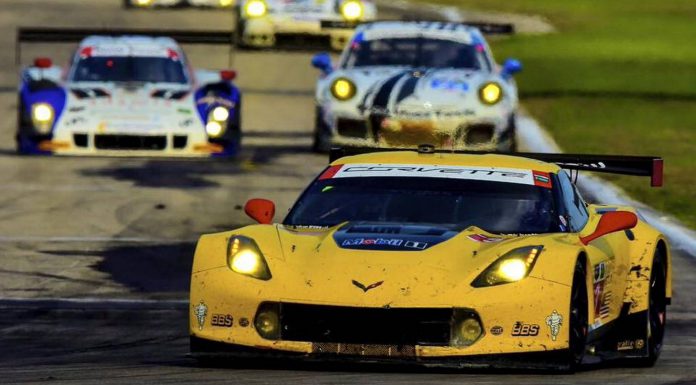 Corvette Racing denied Porsche a second consecutive win at the 2015 Twelve Hours of Sebring with a hat trick to claim the GTLM win in the final hour of the race on Saturday night. Porsche was leading till the eleventh hour with two cars which encountered mechanical issues and had to pit one by one.
The No. 3 Corvette Racing Corvette C7.R piloted by Antonio Garcia, Jan Magnussen and Ryan Briscoe thus crossed the line first, giving Corvette Racing their ninth win at Sebring since 2002. The team also won this year's Rolex 24 At Daytona race, making it the only team to ever win Rolex 24 at Daytona and 12 Hours of Sebring in the same season since 2000. Frédéric Makowiecki had initially pitted his #912 Porsche 911 RSR giving the way to sister car #911 driven by Nick Tandy who unfortunately pitted too, giving the Corvette clear space to victory.
Second in the GTLM class was the #62 Risi Competizione Ferrari F458 piloted by Pierre Kaffer, Giancarlo Fisichella and Andrea Bertolini while the #17 Team Falken Tire Porsche 911 RSR rounded off the top three, being driven by Bryan Sellers, Wolf Henzler and last year's winning driver Patrick Long.
Porsche did not lose it all as they won in the GTD class with the #23 Porsche 911 of Ian James, Mario Farnbacher and Alex Riberas fielded by Alex Job Racing. Farnbacher lost momentum after driving off course in turn 10 giving the lead to the #33 TI Automotive/Riley Motorsports Dodge Viper SRT GT3-R of Jeroen Bleekemolen.
The Viper was forced to pit in the final minutes and Farnbacher retook the lead again, a flying #007 TRG-AMR Aston Martin Vantage of Christina Nielsen, James Davison and Brandon Davis crossed the line in second place in the GTD class. Third in this class was the #63 Scuderia Corsa Ferrari 458 Italia of Bill Sweedler, Townsend Bell and Anthony Lazzaro.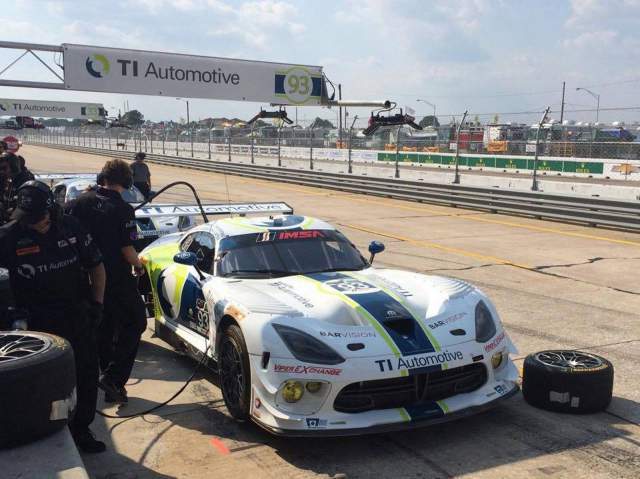 Corvette impressed all round especially in the quicker prototype category where they swept the podium with a 1-2-3 finish. This year's race marked Chevrolet's 50th anniversary of the triumphant win of 1965. Christian Fittipaldi, Joao Barbosa and Sebastien Bourdais drove the #5 Action Express Racing Mustang Sampling Corvette DP to victory and became the first team to ever lap the field in the TUDOR United SportsCar Championship. The #90 VisitFlorida.com Corvette DP finished second followed by the #10 Konica Minolta Corvette DP.
Quotes:
Ryan Briscoe, Driver – No. 3 Corvette Racing Corvette C7.R: "You couldn't ask for a better start to the year. We came out with the new C7.Rs last year. We had the speed, but worked through some gremlins. The team has done a fantastic job with the cars. We've run the first 36 hours without a single problem. We've done all the pit stops with just fuel and tires and drivers. For that kind of preparation the team has done an amazing job and I'm thrilled to be a part of it all. I've got some real quality races on my plate this year. We're off to a great start."
Jeroen Bleekemolen, No. 33 TI Automotive/Riley Motorsports Dodge Viper SRT GTS-R: "Daytona was a big disappointment and I hoped to make it up here. Also for the championship, it's going to be tough. Let's try to win some races and hopefully a big one like Petit (Le Mans)."
Mario Farnbacher, Driver – No. 23 Team Seattle/Alex Job Racing Porsche 911 GT America: "From 25 minutes to the end of the race, I lost the front brakes. I locked up once with no brakes on the front. I went off the track. I thought it was over. Then I saw the Viper on the back straight going slowly. At that moment I knew we were back in the lead, and I just had to save the car to the end."