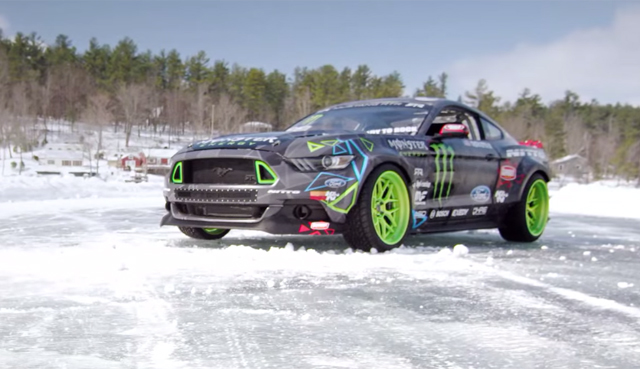 To unveil his 2015 livery in style, drifting extraordinaire Vaughn Gitten Jr headed out to the snow to see how his powerful drifting machine performs in the slipperiest of conditions. As you'd imagine, Gitten Jr manages to control his Mustang RTR effortlessly on the snow course and slides across the surface as if it was tarmac.
[youtube]https://www.youtube.com/watch?v=Iq5n2lPUhnk&t=41[/youtube]
Gitten Jr's new drifter was originally unveiled at last year's SEMA show and is officially dubbed the Ford Mustang RTR Spec 5 Concept. Visually, the 2015 Ford Mustang RTR Spec 5 Concept features aggressively flared wheel arches significantly wider than those from the publically available 2015 Mustang RTR. Additionally, it is rolling on a set of bright green wheels which nicely complement the Monster Energy Racing livery.
Elsewhere, the Mustang RTR Spec 5 Concept includes a roll cage, Recaro racing seats, an extended front splitter as well as a prominent rear bootlid lip spoiler. It remains to be seen just what is powering the Spec 5 Concept but we know a 725 hp variant is available for the street so it is certainly possible the Spec 5 Concept's engine is very closely related to that one.