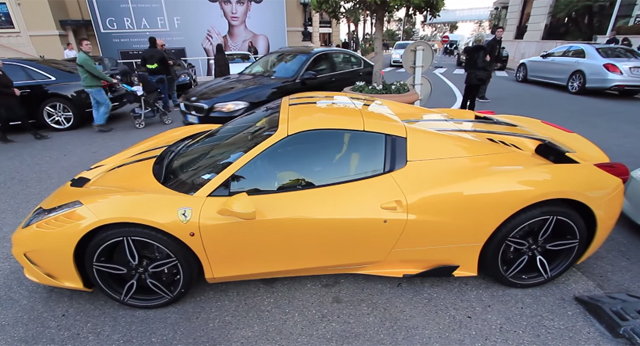 As the last ever naturally-aspirated V8 powered Ferrari, the Ferrari 458 Speciale A (Aperta) is pinned to become a true collector's car in the future. With that in mind, it is little surprise why two stunning examples were recently being shown off in Monte Carlo with their evidently wealthy owners behind the wheels!
[youtube]https://www.youtube.com/watch?v=dq7omzQKi6I[/youtube]
As the following video shows, one of the 458 Speciale A's featured is finished in grey while the other is bright yellow. Despite the dramatically different paint schemes, both are truly exceptional examples of Ferrari's most hardcore drop-top.
As a reminder, the Ferrari 458 Speciale A features the most powerful naturally-aspirated road-going V8 engine ever built by the Italian marque. The engine, which is the last naturally-aspirated engine that Ferrari is building, produces a colossal 597 hp and 540 Nm of torque at 6000 rpm.
All this power means the Speciale A sprints from 0-100 km/h in just 3.0 seconds, the same as the Speciale Coupe, and has a Fiorano lap time of 1 minute 23 seconds, again identical to the Coupe. The Speciale A is also the most aerodynamically efficient topless Ferrari ever made and it sure looks fantastic with the two beautifully crafted buttresses behind the occupants heads.