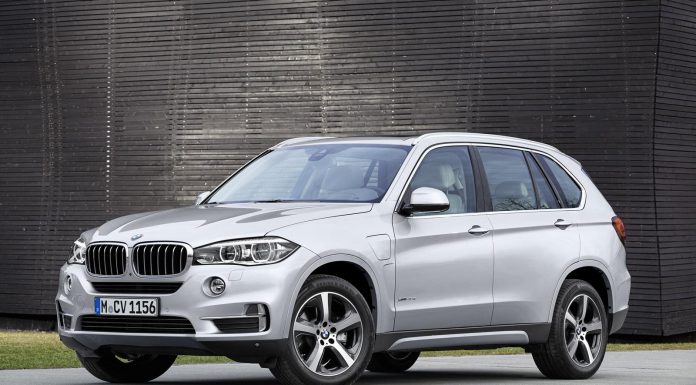 It was back in 2013 when the BMW X5 eDrive Concept was introduced and now the production-spec car has been unveiled in the form of the BMW X5 xDrive40e. The car is the first model from the German marque to be a hybrid while not wearing the i badge.
Powering the BMW X5 xDrive40e is a potent 2.0-litre turbocharged four-cylinder petrol engine delivering 245 hp and 258 lb-ft of torque. That engine is then combined with an electric motor producing a further 113 hp and 184 lb-ft. All up, that equates to 313 hp and 332 lb-ft meaning the hybrid BMW X5 xDrive40e can accelerate to 100 km/h in a mere 6.8 seconds as well as an electronically limited top speed of 210 km/h.
As with most hybrid vehicles, the X5 xDrive40e can run solely on electric power with a range of 31 km while also reaching a top speed of 120 km/h. On the combined cycle, the hybrid X5 consumes between 3.3 and 3.4-litres per 100 km while emitting between 77 and 78 g of CO2 per kilometre.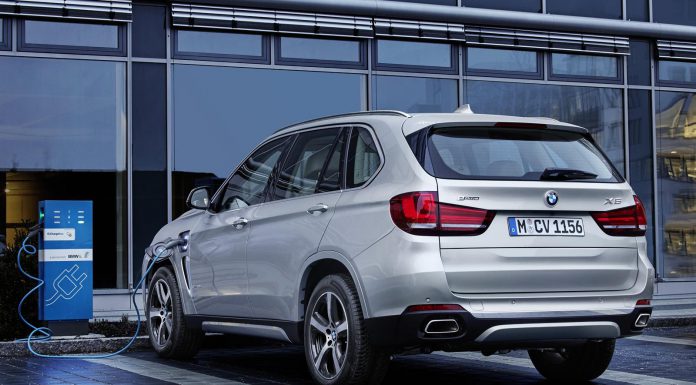 The battery for the X5 xDrive40e has been installed beneath the boot to ensure that the luxurious SUV retains large amounts of interior space. With that in mind, cargo capacity ranges between 500 to 1720 litres depending on whether or not the rear seats are folded away.
[showhide]
The first plug-in hybrid production car from the BMW core brand is a Sports Activity Vehicle. Permanent all-wheel drive and the BMW EfficientDynamics eDrive technology endow the BMW X5 xDrive40e with sensational sportiness and supreme poise on the one hand and outstanding efficiency on the other. With a total system output of 230 kW/313 hp generated by a four-cylinder petrol engine with BMW TwinPower Turbo technology and a synchronous electric motor, the BMW X5 xDrive40e achieves a combined fuel consumption of 3.4 – 3.3 litres per 100 kilometres (83.1 – 85.6 mpg imp) and a combined electricity consumption of 15.4 – 15.3 kWh over the same distance. CO2 emissions come in at 78 – 77 grams per kilometre (figures according to EU test cycle for plug-in hybrid vehicles, may vary depending on the tyre format specified).
The use of BMW eDrive technology for exceptionally efficient performance as well as all-electric mobility with zero tailpipe emissions as and when required ushers in a whole new form of commanding driving experience in a sports activity vehicle. At the same time, the BMW X5 xDrive40e reaps the benefits of the technology and know-how transferred from the debut of the BMW i cars. The BMW i8 blazes a trail for sustainable driving pleasure with plug-in hybrid drive power, which can now also be enjoyed for the first time in a model from the BMW core brand.
Lithium-ion battery with flexible charging options, typical SAV versatility and an exclusive ambience. The energy for the electric motor integrated in the 8-speed Steptronic transmission is drawn from a lithium-ion battery, which also supplies power to the low-voltage battery for the 12V electrical system aboard the BMW X5 xDrive40e via a voltage transformer. It can be recharged by connecting to any standard domestic power socket or a BMW i Wallbox, as well as at public charging stations. To save space the high-voltage battery is housed underneath the luggage compartment floor, where it is also particularly well protected in the event of a crash. With 500 – 1,720 litres of luggage space, a three-part folding rear backrest and a luxuriously designed interior, the BMW X5 xDrive40e also boasts the high versatility associated with a large sports activity vehicle but blended with an exclusive ambience. 1. The BMW X5 xDrive40e.
Intelligent powertrain control and eDrive button for intense hybrid driving and mobility with zero local emissions. The actual driving experience is likewise characterised by versatile and effortless performance. The intelligent hybrid powertrain control ensures that the engine and the electric motor act in unison in a way that optimises efficiency while also catering perfectly to the driver's wishes. The eDrive button on the centre console allows the driver to adjust the hybrid drive's operating mode. In the AUTO eDrive basic setting, the engine's power is boosted to noticeable effect when accelerating or during quick bursts of speed by the electric drive, whose full torque of 250 Newton metres (184 lb-ft) is on tap from standstill for instantaneous power delivery. The BMW X5 xDrive40e completes the sprint from 0 to 100 km/h (62 mph) in 6.8 seconds.
Alternatively, the MAX eDrive mode can be engaged, enabling the BMW X5 xDrive40e to run purely on electric power – when driving in urban traffic for instance – resulting in zero local emissions. When the high-voltage battery is fully charged, the vehicle has a range of up to 31 kilometres (approx. 19 miles) in the all-electric drive mode with a limited maximum speed of 120 km/h (75 mph). The SAVE Battery mode can also be activated at the touch of a button, causing the high-voltage battery's state of charge to be maintained or allowing energy to be accumulated again, e.g. by means of recuperation, if capacity is low. In this way, electrical energy can be deliberately conserved for all-electric driving later in the journey.
Regardless of the setting chosen with the eDrive button, the power stemming from both drive sources is permanently transmitted to the road via the intelligent all-wheel-drive system, BMW xDrive. The various vehicle set-ups that can be selected with the Driving Experience Control switch – COMFORT, SPORT and ECO PRO – are also available in all drive modes.
Hybrid-specific products and services from BMW ConnectedDrive and BMW 360° ELECTRIC. All of the driver assistance systems and mobility services from BMW ConnectedDrive offered as standard or as optional extras for the BMW X5 are also available to provide enhanced driving pleasure in the model variant with eDrive technology. An intelligent energy management function is also offered as a special model-specific feature that can be used in conjunction with the Navigation system Professional which is fitted as standard in the BMW X5 xDrive40e. Whenever route guidance is active, data on the route profile is factored into powertrain control along with real-time traffic information. When driving medium to long distances, the system can therefore ensure it is possible to drive purely on electric power on urban sections by using Brake Energy Regeneration and managing the high-voltage battery's energy reserves in a targeted and efficient manner.
The hybrid-specific version of the BMW Remote app makes it possible to check the high-voltage battery's state of charge, locate public charging stations or call up efficiency evaluations for the BMW X5 xDrive40e on a smartphone. The auxiliary heating and ventilation functions can also be activated remotely.
The BMW i Wallbox Pure and BMW i Wallbox Pro, including installation service, are available for home charging as part of the BMW 360° ELECTRIC concept, offering customers a particularly fast and convenient means of recharging the high-voltage battery while parked. Model-specific assistance services are also available. The ChargeNow service provides cash-free access to an extensive partner network of charging stations and billing of the charging costs with the ChargeNow card. The mobility service ParkNow Longterm, meanwhile, makes it easier to find a parking space or locate and book a parking spot with charging facilities.
Wide-ranging equipment options.
The comprehensive standard specification of the BMW X5 on the plug-in hybrid model is extended to include the Navigation system Professional as well as an auxiliary heating and ventilation system. This is powered by electricity from the high-voltage battery or from the mains supply while charging. The BMW X5 xDrive40e additionally comes equipped as standard with the Adaptive Suspension Package Comfort including rear air suspension and Dynamic Damper Control. Beyond this, practically all the optional extras offered for the BMW X5 can also be specified for the plug-in hybrid model. The Design Pure Experience and Pure Excellence packages for the exterior and interior are also available for the BMW X5 xDrive40e, as are the M Sport package and the bespoke features from BMW Individual.
[/showhide]