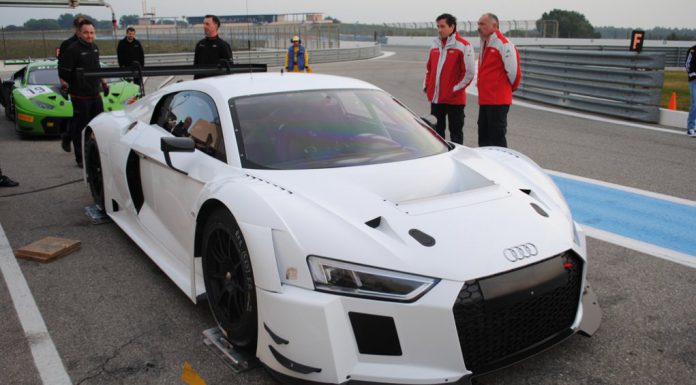 The new Audi R8 LMS is now undergoing its first outing on a track at Paul Ricard Circuit in France ahead of its initial motorsports campaign in various GT racing series around the world. The Audi R8 LMS made its global debut at the Geneva Motor Show 2015 alongside its roadgoing variant and a new e-tron version as well.
Just like the new Audi R8 road car, the new Audi R8 LMS has a significantly updated look over the outgoing model. Both road and track cars now feature a 585hp V10 engine, the main differences between the road going car and the racecar lie in the aerodynamics where the Audi R8 LMS now features a fully lined underfloor and an integrated rear diffuser.
There are numerous updates on the second generation Audi R8, including a new indirect injection system alongside the FSI direct fuel injection. Other changes include measures to reduce the weight, with the road car's dry weight of 1454 kg which is 50 kg less than the outgoing model. The LMS variant is even lighter with the scales tipping at 1,225 kg.
The Audi R8 LMS will use the Audi Protection Seat PS 1 which has been used before in the successful Audi R18 e-tron quattro. The seat will be attached to the chassis for increased stiffness. In addition to the new seat, the new Audi R8 LMS will also feature a rescue opening in the roof which is a feature used in the Audi RS5 DTM racecar.
The second generation Audi R8 LMS will make its official race debut at the 24 Hours of Nurburgring on May 16 and later at the 24 Hours of Spa on July 25.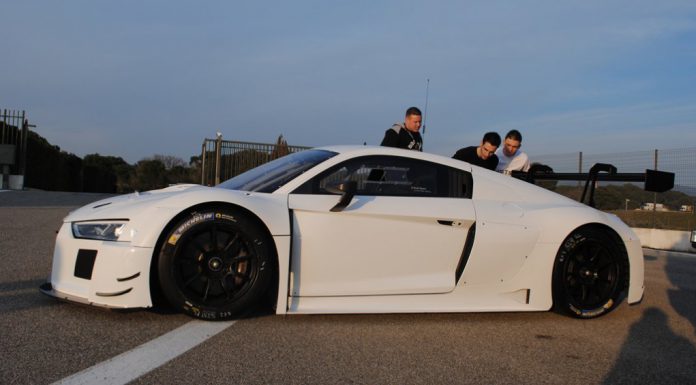 [via: endurance info]