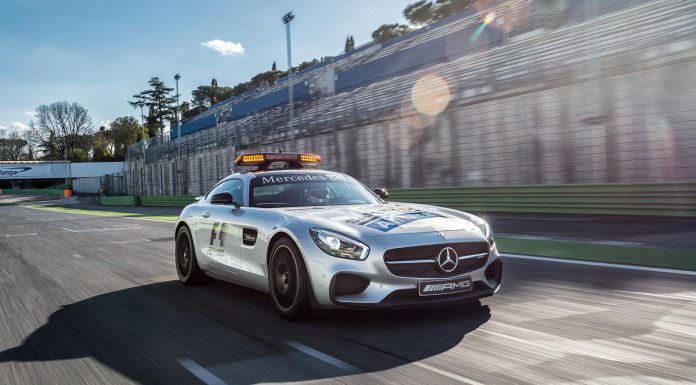 The Mercedes-AMG GT S Safety Car and the Mercedes-AMG C63 S Estate Medical Car for the 2015 Formula One season have just been introduced. The new cars will celebrate their on-track debuts at next weekend's Australian Grand Prix held at Melbourne's Albert Park.
Powering the Mercedes-AMG GT S Safety Car is exactly the same mechanical package as the road-going car. As a result, it features a twin-turbocharged 4.0-litre V8 engine delivering a total of 510 hp as well as 650 Nm of torque. Consequently, it will reach 100 km/h from a standstill in a brief 3.8 seconds as well as a top speed of 310 km/h. The Safety Car has been fitted with a modified performance exhaust system to make it even louder than the road car.
Elsewhere, the Mercedes-AMG GT S Safety Car features the exact same seven-speed dual-clutch transmission of the road car with it also utilising the normally optional Dynamic Plus package which includes dynamic engine and transmission mounts. Additionally, the package includes tweaked spring and dampers, more negative camber at the front axle as well as a revised steering system.
Visually, the car features the Edition 1 aerodynamic package which includes a fixed rear wing as well as a more pronounced front splitter. The obligatory light bar is also featured on the roof.
Driving the car will be Bernd Maylander who said, ""The gull-wing SLS AMG was my official car in Formula 1® for five years. Now I'm looking forward to the new Mercedes-AMG GT S, which I have been fortunate enough to get to know during its development phase. The new AMG sports car won me over immediately with its high-calibre race track performance."
In a similar vein, the Mercedes-AMG C63 S Estate Medical Car features the same mechanical components as the road car meaning it too features a 510 hp, 4.0-litre twin-turbocharged V8 engine. It will be driven by the FIA's head physician, Dr Ian Roberts.