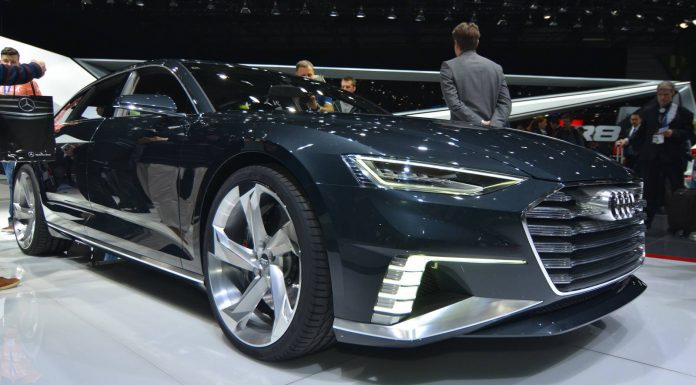 The Audi Prologue Avant Concept is on display at Audi's Geneva Motor Show 2015 stand. The Audi Prologue Avant Concept is exactly as the name suggests, an estate bodied version of the Los Angeles concept we drove last year. It's a concept that is more about design than it is about the actual vehicle itself. We took a closer look at the concept on display.
The Audi Prologue Avant Concept hides a new styling language, elements of which are evident on Audi models on display at elsewhere on the stand. The Prologue Avant features a slightly redesigned front bumper with a new splitter, LED daytime running lights and revised air intakes. Most evident are the broad shoulders which surround the new 22 inch rims.
The Audi Prologue Avant Concept gets a slightly different engine setup from the Los Angeles car. It is power by a hybrid system; the same as customers will be able to purchase with the upcoming Audi Q7 e-tron quattro. It includes a 3.0-litre TDI engine and an electric motor with a combined output of 455 hp and 553.2 lb-ft of torque.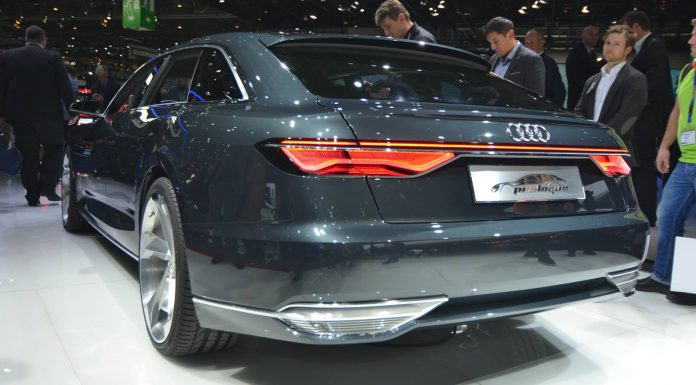 Technology is another highlight of the Prologue Avant Concept. The dashboard integrates three touch displays, one of which the passenger can use to swipe information across to the driver. Rear passengers get a flexible OLED display integrated in the centre console.

For full details on the Audi Prologue Avant Concept, take a look at our earlier article. For all the latest from the Geneva Motor Show 2015, take a look at our dedicated news feed or follow us on Facebook, Twitter, Instagram or Google+.