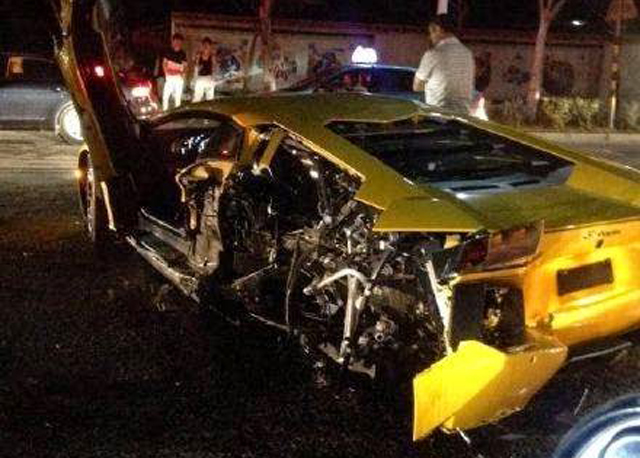 A yellow Lamborghini Aventador has been wrecked following a seemingly high-speed crash in China.
As is often the case with supercar crashes like this one, details remain scarce at this point. Nevertheless, it is apparent that the mid-engined Italian supercar hit a black family sedan which eventually rolled onto its roof. More intriguing is the point that many witnesses claim a cow was somehow involved in the crash. Consequently, it seems safe to assume that the cattle could have been in the road and triggered the proceeding events.
Whatever the exact cause, the damage to the Lamborghini Aventador is abundantly clear. For starters, the driver's side of the car has been extensively damaged with dents and scratches covering the entire scissor door. Additionally, the rear quarter panel has been crumpled by the impact with either the family sedan or the cow.
As a result, the driver side taillight and part of the bumper have also been damaged. Most heart-wrenching however is the fact that the entire rear wheel and hub assembly of the Aventador has been ripped off resulting in almost immeasurable damage. Consequently, it is unclear if the car will be repairable or deemed a complete write-off.
No details have been made available about the condition of the Aventador driver, any possible passenger nor the occupants of the sedan.