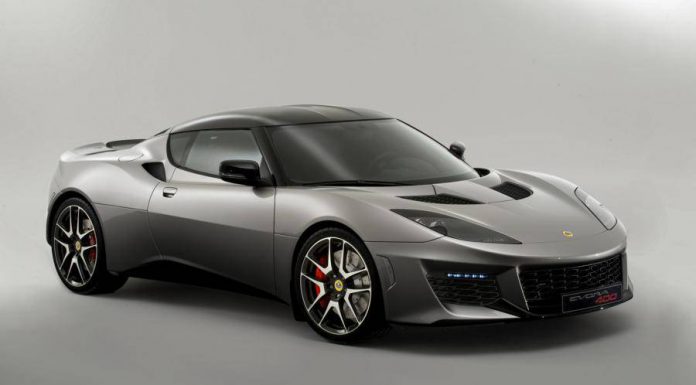 Prior to the Geneva Motor Show 2015 kicking off, the 2015 Lotus Evora 400 has just been revealed. The new car is a refreshed and updated variant of the existing Evora model line-up and will go on sale this coming August.
As the name suggests, the Lotus Evora 400 features an uprated of the Evora S's supercharged 3.5-litre V6 engine with it now delivering 400 hp, which is 16 per cent more than previously. No torque figure has been released but the British marque has confirmed it will sprint to 96 km/h in just 4.1 seconds as well as a top speed of 300 km/h. Incredibly around the Hethel test track, the Evora 400 is six seconds faster than the existing Evora and matches the Lotus Exige S as the firm's lap record holder at Hethel.
The power gains have been achieved through a new three-inch tailpipe, a slightly larger supercharger and revised intercooler as well as tweaks to the sports car's engine management system. Tweaks have also been made to the standard six-speed manual transmission which now incorporates a new clutch and lightened flywheel. A six-speed auto 'box is also available and it too has been modified to provide quicker upshifts and downshifts.
All told, 60 per cent of the parts found on the 2015 Lotus Evora 400 are brand new. With that in mind, the front end now incorporates an entirely refreshed bumper with a different grille design, enlarged air intakes and horizontal daytime running lights. The rear-end of the Evora 400 is also easily distinguishable from other Evora variants. As such, it features a prominent diffuser alongside a modified bumper as well as a spoiler incorporates into the decklid and supporting a central brake light. As a result of these aerodynamic modifications, downforce has doubled at 250 km/h with the drag coefficient rising slightly from 0.33 to 0.35.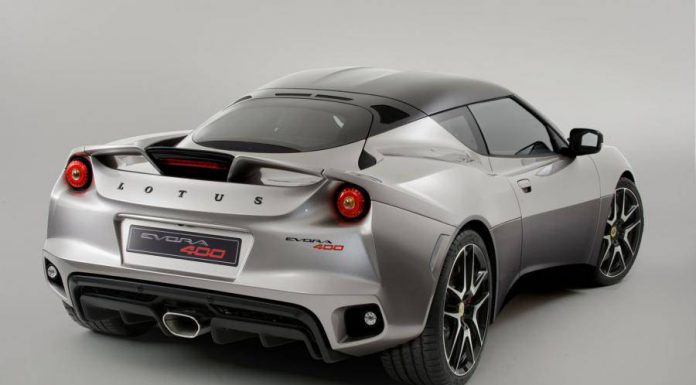 Another key development for the Lotus Evora 400 is that the chassis has been extensively improved. As a matter of fact, the Evora's infamously wide sills are now 43 mm narrower and 56 mm lower while footwell space has also been increased. Also in the cabin, new seats have been installed alongside different rear seats to further save weight bringing the total weight savings of the Lotus Evora 400 to 22 kg.