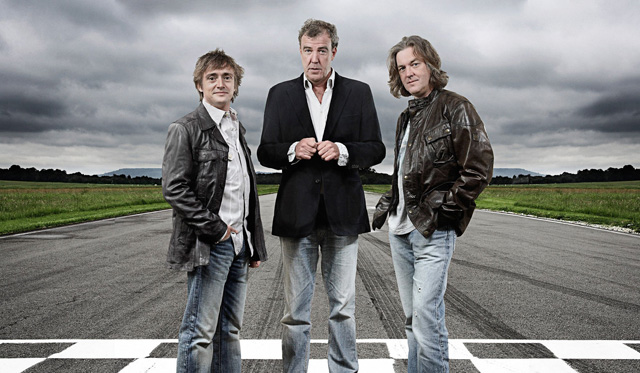 Top Gear Season 22 Episode 4 airs tonight at the usual time of 8 pm on BBC 2 and BBC 2 HD! After two weeks of special episodes, including last week's hilarious home made ambulance challenge, Top Gear returns to its normal format with reviews, a star in a reasonably priced car, news and a feature!
There are two main features for Top Gear Season 22 Episode 4, the first involving Jeremy Clarkson and the second involving Richard Hammond. Jeremy gets the opportunity to drive the new BMW i8 and BMW M4 back to back. The test involves a stint at the Top Gear Test Track with a jaunt up to Yorkshire for Fish and Chips. Jeremy is forced to make a decision as to which car he would prefer to drive back in.
Meanwhile Richard Hammond pays hommage to the Land Rover Defender; a car that first hit the market in 1948. In December 2015, Land Rover will produce the very last one bringing to an end 67 years of continuous production. The Defender is being forced off the market due to stringent US and EU safety regulations although it will be replaced.
Top Gear Season 22
Top Gear Season 22 Episode 4 will also see James May put the new Mercedes-AMG GT through its paces at the Top Gear Test track. Finally, Will Smith and Margot Robbie will be this week's Stars in a Reasonably Priced Car. They are promoting a new film called Focus, a romantic comedy involving a con-man who poses as a billionaire international race car owner.
Top Gear Season 22 Episode 4 should be action packed with plenty to keep car enthusiasts happy. Next week's episode also features much of the same with a test of the new Porsche Cayman GTS, Chevrolet Corvette, a history piece on Peugeot and the long awaited LaFerrari review. It remains to be seen whether Top Gear will manage the ultimate trio in a later episode!
Don't forget to tune in tonight for Top Gear Season 22 Episode 4, 8 pm on BBC 2 and BBC 2 HD. Top Gear Season 22 will continue with 6 further episodes planned and scheduled to air between now and 29 March 2015.