The Nissan 370Z Nismo Roadster Concept might be "just a performance study" but it looks ready for production blast-off to join the rest of the four-model Nismo family, combining the open-air driving exhilaration of a standard 370Z Roadster and the race-inspired style and performance of a 370Z Nismo Coupe with 350 hp 3.7-litre V6 and Nismo-tuned suspension.
Certainly turning heads at the Chicago Auto Show, the car's striking visual presence starts with the GT-R-inspired functional and fully integrated aerodynamic body features, including a specially designed custom carbon-fibre rear spoiler, Hyper LED Daytime Running Lights, black headlight bezels, Nismo emblems and a signature Nismo red stripe.
Inside, the stunning Nismo-styled interior features black Recaro seats with custom off-white Ultrasuede inserts, fixed headrest bars and leather-wrapped accents.
Fred Diaz, senior vice president, Nissan Sales & Marketing and Operations U.S., Nissan North America, said: "While the 370Z NISMO Roadster Concept is just a performance study at this point, you can see its potential as a production model.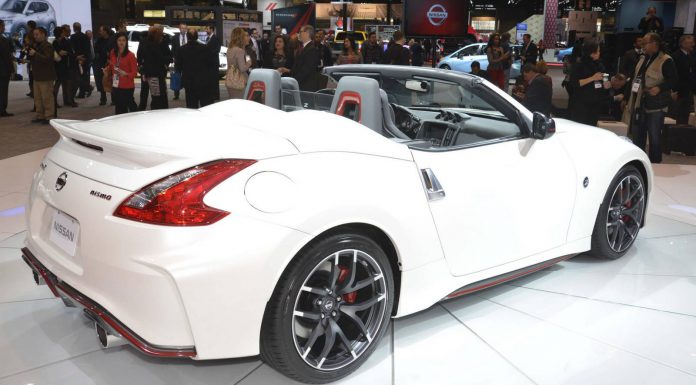 "We've injected all the performance equipment from a 370Z Nismo Coupe. Inside, since the interior is on display whenever the top is down, it features the full Nismo treatment, as well as a few special custom touches."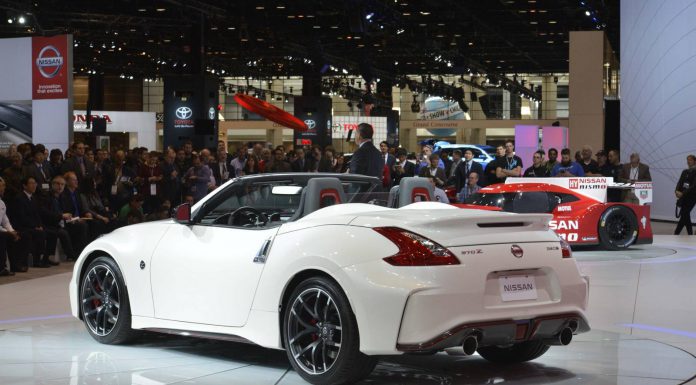 Under the skin the Nissan 370Z Nismo Roadster Concept get an exclusive H-configured exhaust system design and muffler tuning, along with optimised ECM calibration, to help create 18 hp more than a standard 370Z while the powerplant is mated to a 7-speed automatic transmission with downshift rev matching.
The convertible top is a cloth electic-folding roof with fabric inner liner design. It includes a steel tonneau cover and fixed glass wind deflector. The width of the car is emphasised through the wide 19-inch Nismo super-lightweight forged aluminum-alloy wheels.