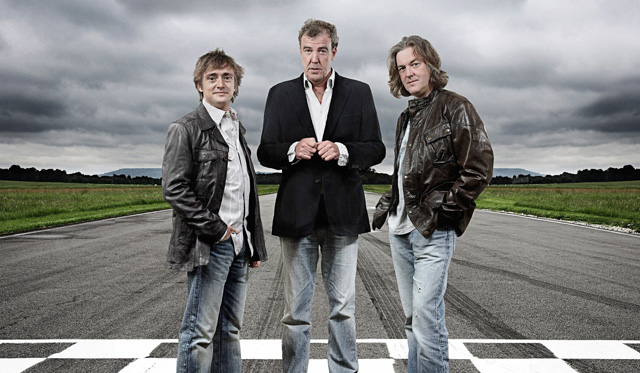 Top Gear Season 22 Episode 3 airs tonight at the usual time of 8 pm on BBC 2 and BBC 2 HD. After last week's adventure to Australia, the boys are back in the studio with a more conventional episode… as if Top Gear could ever be conventional.
Top Gear Season 22 Episode 3 sees Jeremy Clarkson, Richard Hammond and James May take on the challenge of building an Ambulance. The boys start off with good intentions, to save the NHS from the crippling budget cuts it currently faces. Things never really go as they plan though.
The team assemble a tired group of likely candidates which range from a Chevrolet Van to a Hearse. Each car will be put through a series of challengers before the winner is eventually announced. The ensuing carnage will be hilarious, we have no doubt. We're pretty certain that it won't do much to improve upon the current fleet of NHS Ambulances.
Top Gear Season 22
Meanwhile, Top Gear Season 22 Episode 3 sees the return of the Formula 1 driver's Star in a Reasonably Priced Car. Australian sensation Daniel Ricciardo will take the wheel of old Suzuki Liana this week, hoping to knock Lewis Hamilton from the top of the leader board.
The listings suggest that Top Gear Season 22 Episode 3 will be taken up with these two segments. If you are expecting to see a car review then you will need to check into next week's show. Next week the team will be testing a BMW i8, BMW M4 and the brand new Mercedes-AMG GT.
Make sure you watch BBC 2 and BBC 2 HD at 8 pm for the full episode. Top Gear Season 22 will continue with 7 further episodes planned and scheduled to air between now and 29 March 2015.