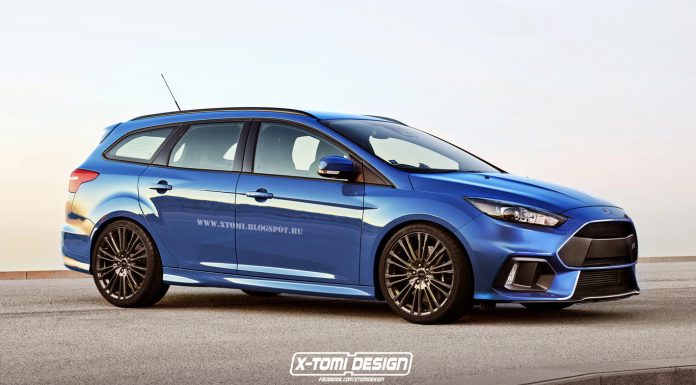 An estate variant of the Ford Focus RS has never been made available, but considering the Ford Focus ST is available as an estate, X-Tomi Design has decided to render the just released 2016 Focus RS as an estate and it certainly looks promising.
Alongside the adoption of the estate body style which adopts a lengthened roof and new tailgate design, the Ford Focus RS Estate rendered also utilises different taillights.
Powering the 2016 Ford Focus is a new engine based on the new Mustang's all-aluminium four-cylinder 2.3-litre engine but substantially uprated with power boosted by a new low-inertia twin-scroll turbocharger with larger compressor plus much bigger intercooler. Additionally, it features a less restrictive intake and big-bore high performance exhaust with electronic tailpipe valve to cut back pressure and enhance the noise with the distinctive burbles, pops and crackles that are a RS signature. All told, it will deliver over 320 hp.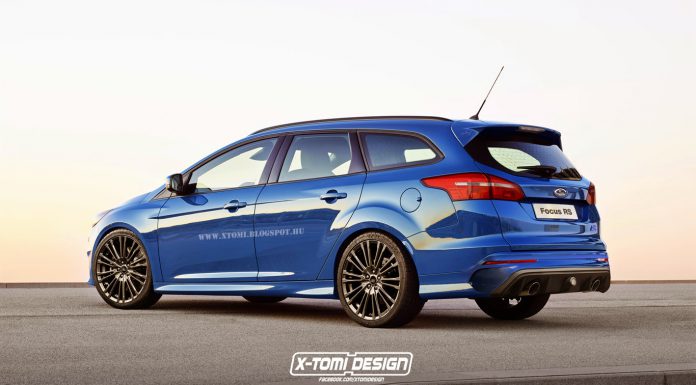 Key to putting down the power is the new Ford Performance All-Wheel-Drive with Dynamic Torque Vectoring combining outstanding traction and grip with unmatched agility and cornering speed, based on twin electronically-controlled clutch packs each side of the rear drive unit. These manage the car's front/rear torque split, and also can control the side-to-side torque distribution on the rear axle.
The AWD system has been tuned for exceptional grip – with lateral acceleration exceeding 1g – and class-leading cornering speed and acceleration out of a bend and the ability to achieve controlled oversteer drifts at the track. Dave Pericak, director, Global Ford Performance, said: "We have ripped up the rulebook which says that AWD hatchbacks cannot be fun to drive, and have created a car which will surprise and reward in equal measure."
[Via X-Tomi Design]