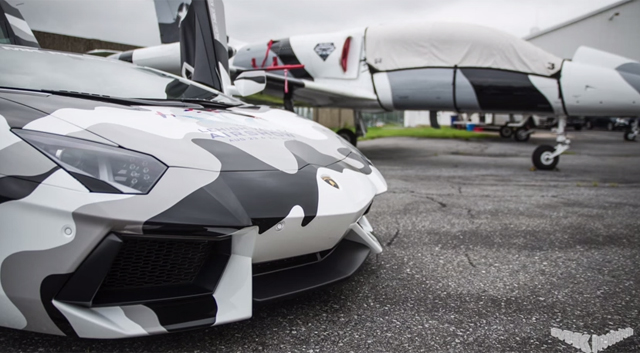 At last year's Lehigh Valley Airshow, a unique Lamborghini Aventador hit the runway alongside the Black Diamond Jet Team for an exciting race but more importantly, just to put on a show for the crowd!
Prior to the show, the Aventador's owner, Michael Klesh, had the car wrapped courtesy of Seven Wraps to mimic the white, black and grey army camouflage paint scheme of the L39 Albatross Fighter jets used by the Black Diamond Jet Team.
[youtube]https://www.youtube.com/watch?v=_6IsjOlTPPg#t=235[/youtube]
Klesh initially found out about the potential to race a jet fighter when he saw a post on Facebook. When discussing this with Du Pont Registry, Klesh said, ""I immediately commented 'YES!' No details were needed for a situation like this.
"I started out guessing that it would be a few people with the means or connections to rent out an airport for a few hours and someone in the group owned the Fighter Jet. Well, I found out a few hours later that I would be a performer, in front of 30,000 people, at the Lehigh Valley Air Show!"