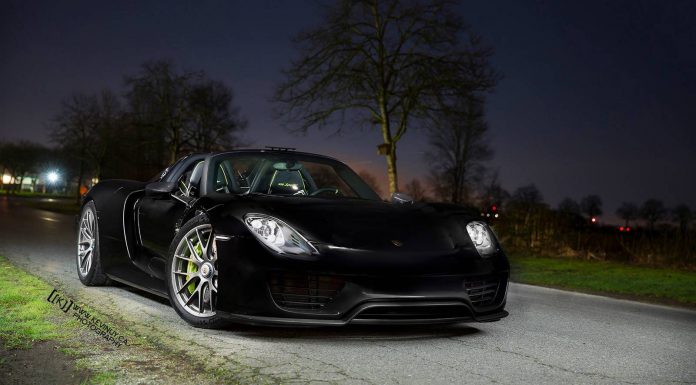 Porsche 918 Spyder deliveries are continuing around the world and a gloss black example outfitted with the optional Weissach package now calls Canada home.
Alongside the black paint and the new aerodynamic elements which the Weissach package adds, this Porsche 918 Spyder has a set of silver wheels and bright green brake calipers. When photographed at night by Kevin King Uy, it looks truly sensational!
As a reminder, the headline for the Weissach Package is improved performance. From zero to 100 km/h takes just 2.6 seconds, 0.2 seconds faster than the standard model. It takes just 7.2 seconds to travel from zero to 200 km/h in 7.2 seconds (a 0.5 second reduction), and 19.9 seconds to pass the 300 km/h mark (a 2.1 second reduction).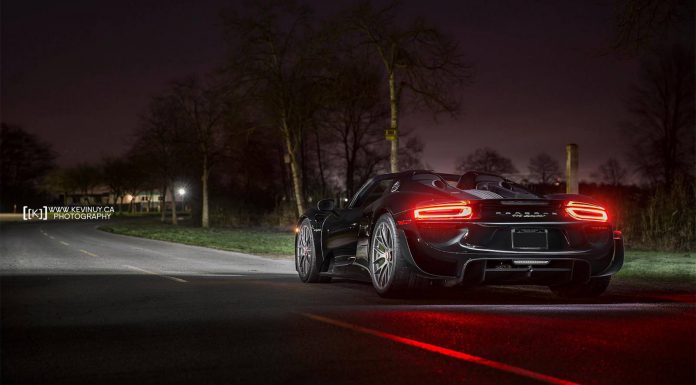 This extra speed has been achieved by stripping away lots of unnecessary weight. For example, the car features lightweight magnesium wheels, a weight-optimised brake system with titanium components, a carbon fibre reinforced plastic (CFRP) anti-roll bar at the rear axle as well as a CFRP prop on the luggage compartment lid.
Under the hood, it features the same powertrain as the standard 918 Spyder. That is a mid-mounted 4.6-litre V8 engine producing 608 hp independently – the highest specific power of any naturally aspirated Porsche engine. The V8 is then supplemented by a further two electric motors mounted on each axle.