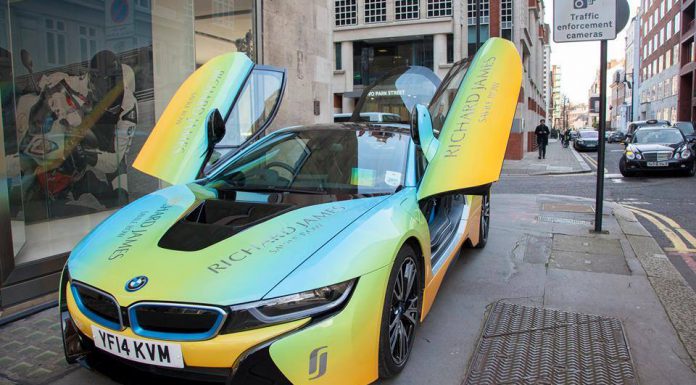 Another unique and particularly eye-catching example of the BMW i8 has just been revealed courtesy of London designer Richard James.
The car features advertising for James's design firm and combines shades of yellow, light green and light blue to really make this i8 looks unlike any other on the streets.
Of course, the BMW i8 utilises a brand new three-cylinder petrol engine with BMW TwinPower Turbo technology. From 1.5 litres, the i8 manages an output of 231 hp, a maximum torque of 320 Nm. Power is sent to the rear wheels via a six-speed automatic gearbox. The petrol engine is supplemented by an electric motor with an output of 131 hp and maximum torque of 250 Nm.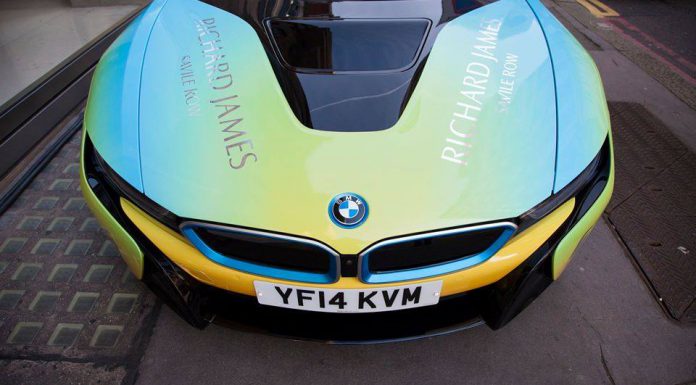 That combination means that the BMW i8 is able to produce 362 hp maximum power and 570 Nm of torque. Performance is 0 to 100 km/h in 4.4 seconds with both engine and electric motor engaged. The BMW i8 manages economy figures of 2.5 litres per 100 km or 113 mpg in imperial measurements.