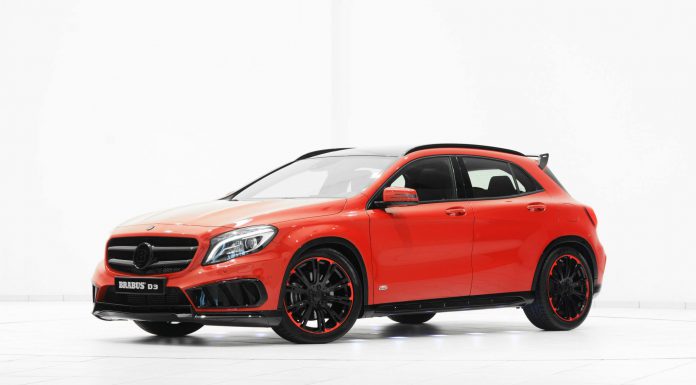 Brabus has just unveiled images and details of its new bodykit for the Mercedes-Benz GLA. Additionally, the German tuning firm has revealed a number of new tuning packages for the GLA range.
Starting with those upgrades, Brabus offers the PowerXtra D3 plug and play system for the GLA220 CDI which lifts power from the 2.1-litre diesel engine by 40 hp and 60 Nm of torque. Additionally, Brabus is able to bump power from the Mercedes-Benz GLA250 to 245 hp and 385 Nm of torque while 400 hp and 500 Nm can be extracted from the GLA45 AMG's 2.0-litre turbo four.
From a visual standpoint, the latest Brabus kit for the Mercedes-Benz GLA is extensive. With that in mind, it adopts a new front fascia with a different splitter, air intakes alongside different side skirts. Additionally, Brabus offers the GLA with an aggressive rear diffuser, a large roof spoiler and a new set of blacked out sports wheels.