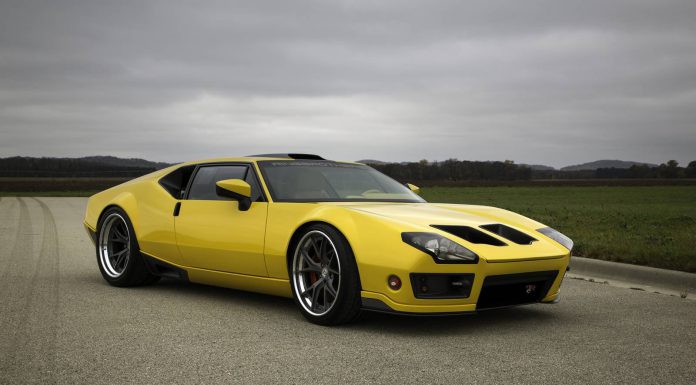 In November 2013, the Ringbrothers ADRNLN De Tomaso Pantera was revealed at SEMA in Las Vegas. Well at the recent Barrett-Jackson auctions, the unique sports car managed to sell for $300,000.
Obviously inspired by the original De Tomaso Pantera, the Ringbrothers ADRNLN De Tomaso Pantera features a host of visual and performance upgrades to separate it from all other Panteras ever produced. Under the hood, the Ringbrothers ADRNLN De Tomaso Pantera features a Wegner Motorsports LS3 V8 engine delivering an impressive 600 hp. That engine is then mated to a ZF five-speed manual transmission courtesy of Bowler Performance Transmissions. All of this power is then sent straight through the rear wheels.
Additionally, the Ringbrothers ADRNLN De Tomaso Pantera includes a pair of Flowmaster stainless steel mufflers and potent Baer six-piston calipers at each corner.
Visually, the Pantera by Ringbrothers features a host of upgrades consisting of brand new front and rear fascias, three-piece HRE S101 forged aluminium wheels, Nitto Invo tyres measuring 275/30/19 at the front and an insane 345/30/19 at the rear as well as a heavily modified interior.
In fact, the car's interior has been created in collaboration with Nike and features a selection of bright yellow fabrics as well as an Alpine head unit, Alpine 240 Watt 5.5-inch speakers and an Alpine V Power amplifier. Also found in the interior is a set of Recaro racing systems, a full air conditioning system, seatbelts sourced from Crow Enterprizes as well as a Momo steering wheel.