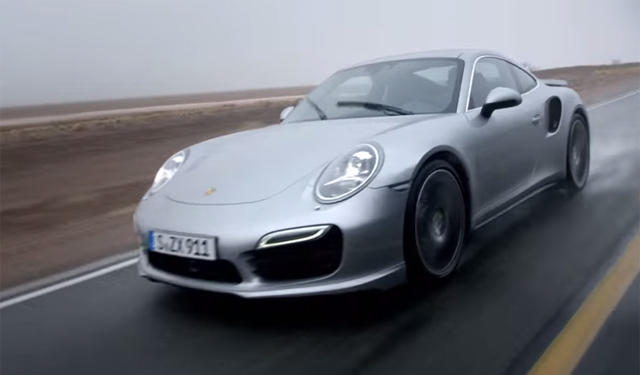 Sure, the 991-generation Porsche 911 Turbo and Turbo S may have been revealed back in 2013 but that hasn't stopped the German marque from releasing a new promo video for the sports car. This particular clip focuses on the sporting characteristics of the car as well as its various safety features.
[youtube]https://www.youtube.com/watch?v=-96taQ5C690#t=103[/youtube]
As a reminder, the 2014 Porsche 911 Turbo comes with a turbocharged 3.8-litre six-cylinder with direct petrol injection producing 520 hp in the 911 Turbo and 560 hp in the Turbo S. It comes with two turbochargers and variable turbine geometry. Together with a new thermal management system for the turbo engine, fuel efficiency technologies have reduced average fuel consumption up to 16 per cent to 9.7 litres per 100km.
GTspirit review of 2014 Porsche 911 Turbo and Turbo S

Compared to previous models, the power level of the 911 Turbo was boosted by 20 hp and its torque was increased 10 Newton metres up to 660 Nm. In the S model, power was increased by 30 hp and torque was increased by 10 Nm to 710 Nm. The increased power of the new 911 Turbo was achieved primarily through improving engine efficiency with higher combustion pressures, new valve timing and ignition angle tuning. In the engine of the S model, charge pressure was increased to 1.2 bar to enhance power and maximum engine speed was increased 200 rpm to 7,200 rpm.