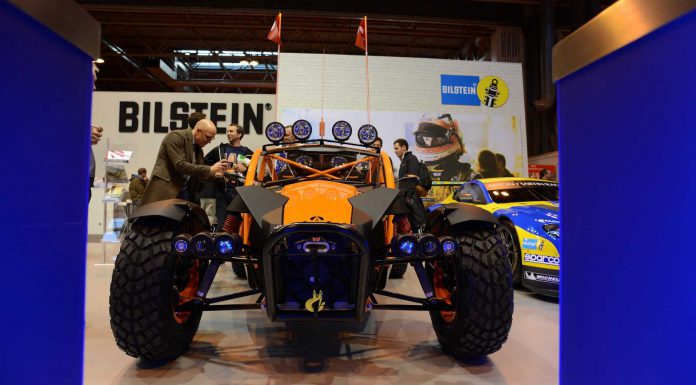 There's more than a dash of Dakar about the stunning new evolution of the Ariel Atom – and the Ariel Nomad is ready to play dirty, if only with rear-wheel drive for exhilarating action on road and off!
The old VW Beetle-based beach buggies have sand kicked in their face with the 200 km/h latest evolution of the Ariel unveiled at the Autosport International Show where there were also some more serious heavyweight muscular off-road playthings like the Maxxis-backed Gigglepin wagon.
Ariel's Nomad is powered by a 2.4-litre, long-stroke four-cylinder Honda engine as used in high-end versions of the Accord that with Ariel electronic tweaks produces 235 hp at a high-spinning Honda 7,200rpm while its 300 Nm torque matches its supercharged 2.0-litre sibling Atom, one of the fastest cars on the road.
Performance is enhanced by a modest 670 kg weight, despite the bigger wheels and chunky off-road tyres – appropriate rubber is offered for high speed action on metalled surfaces – extra roll-over protection, chunky long-travel suspension and chassis mods needed for off-road use. Options include a windscreen, and selection of polythene body panels including nose cone, engine cover, damper covers, mudguards and bonnet.
The result is a car with an on-road 0-100 km/h sprint time of just 3.4 sec and 200 km/h top speed, which should make it capable of beating fully fledged rally cars both on the special off-road courses where they are developed and in real competitions.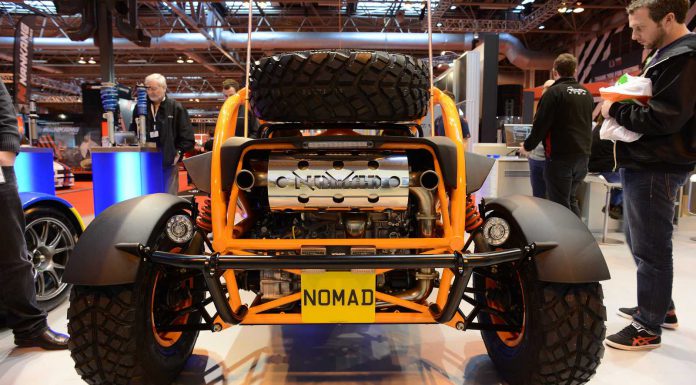 Ariel chief Simon Saunders thinks most Nomads will be bought for fun driving on and off, but says a well set-up Nomad could compete "with honour" in the Dakar Rally, if not necessarily winning.
The Nomad project took off with Ariel founder's son Henry Siebert-Saunders's interest in serious off-roading. He said they had tested the Nomad on a variety of race circuits and proving grounds, as well as well known WRC stages, winch challenge courses and closed forest roads.
Against the Atom, the Nomad has a roll cage that provides A-pillars for the optional windscreen, but in the hot seat the instrument pod, gearlever for 6-speed manual transmission and pedal box are all recognisable. Bolt-on goodies such as roof lights, barge bars, luggage racks and special exhausts are sure to be popular.