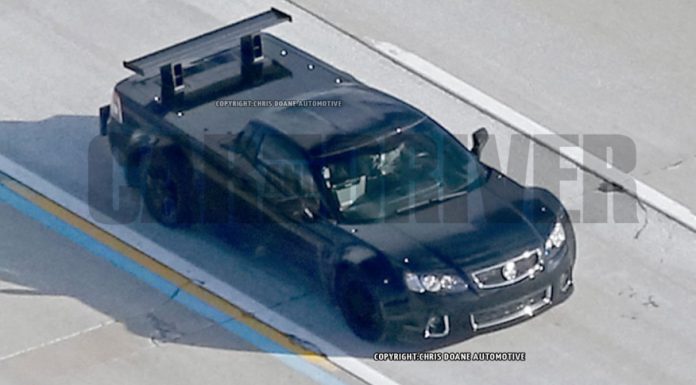 The mid-engined Chevrolet Corvette is certainly one of the most talked cars never to eventuate with rumours continually surfacing about its development. Now however, spy shots of a reported, mid-engined Chevrolet Corvette Zora disguised as an Australian Holden Commodore SSV ute with flared wheel arches have emerged.
While the front bar has been borrowed from the Commodore alongside the headlights and taillights, the roof, interior and wing mirrors are actually from the C7-generation Chevrolet Corvette Stingray. Compared to the Stingray however, this test mule features a much shorter wheelbase and Car and Driver speculates that it could be eight inches shorter than the front-engined Corvette.
Such a dramatic change in the wheelbase comes courtesy of the transmission sitting behind the rear axle instead of in front. It is speculated that the mid-engined Corvette will arrive in C8 generation guise in about 20 months meaning it'll reach the market as a 2017 model. As for power, Car and Driver believes that a V8 with a displacement from 3.5-litres to 4.0-litres is likely to be mounted just behind the cabin.
According to previous suggestions, the car could wear the name Zora. Back in the 60's, Zora Arkus, the so-called father of the Corvette, wanted it to be mid-engined so such a mid-engined Corvette could be dubbed the Zora to honour him.
Elsewhere, reports indicate that production of the Corvette Zora will be capped to 1500 units per year with prices starting around $150,000. It is suggested that the current aluminium platform of the C7 can be modified to suit a mid-engined layout and the Zora ZR1 would most likely take full advantage of this.
[Via Car and Driver]