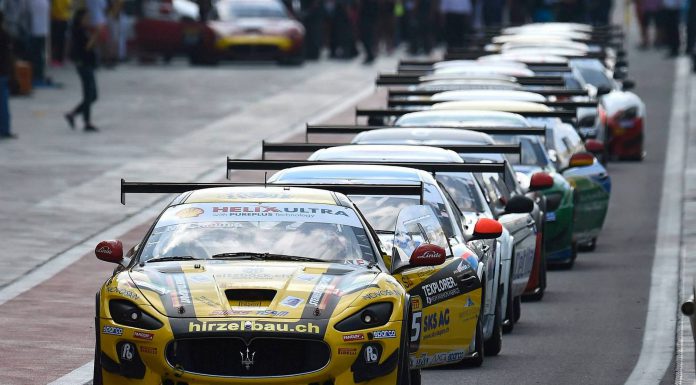 The final round of the 2014 Maserati World Trofeo Series took place at the Yas Marina Circuit in Abu Dhabi over the weekend. Swiss Team driver Mauro Calamia staged his final win of the season during this event to claim the overall Maserati Trofeo World Title. Calamia started the season with a win at Spa in Belgium and sealed it with a win in Abu Dhabi.
Other than the world title, Calamia also pocketed the Trofeo Europa, the Pirelli Pole Position Award and the Trofeo Under-30 during the awards ceremony at the infamous O1NE club. The event began with two races on Friday, with the wins going to Calamia and the hard charging Romain Monti. Calamia then took charge of the third race on Saturday which was 5-hours long. He crossed the finish line first ahead of Monti and Lino Curti.
Mauro Calamia said, "I am surprised at how it turned out: I managed to win by a big margin. I was pretty edgy at the end of the compulsory stops as I didn't know how things stood: I thought that I had lost the lead because of the extra 20 seconds. This meant that I asked a lot of the car and it responded. Luckily, Romain Monti was tucked in behind me and this meant that I increased my lead even more. It was the best way to end a fantastic season".
The team of Roberto Benedetti and Fulvio Ferri finished in fourth place ahead of Norberto Cangani and Angelo Rogari. Andreas Segler and Alessandro Mazzetti then crossed the line in sixth and seventh places respectively. The enduro race was quite a tough one for all drivers as many of the 26 starters did not finish.
Meanwhile, Roberto Rayneri was awarded the Trofeo Over-50 trophy while Massimo Mantovani took the Pirelli Twin Drivers Cup. The Pirelli Single Driver Cup award was given to Roberto Ragazzi. Calamia now joins other world title winners including Renaud Kuppens who won the title in 2013 and 2012, David Baldi who won the title in 2011 and 2010 world title winner Pietro Zumerle.