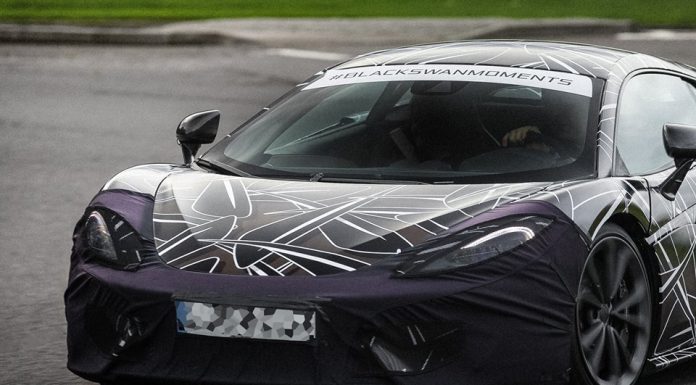 Just a couple of days after a prototype of the upcoming McLaren Sports Series was spied testing with little camouflage, it has been revealed that the entry-level McLaren sports car will debut at the New York Auto Show 2015 in April.
The news was confirmed by McLaren Automotive chief executive Mike Flewitt while speaking with CNBC in the U.S. during the week. In the U.S., the McLaren Sports Series will start at around $180,000 which is about $90,000 less than the current entry-level McLaren 650S. When production of the Sports Series is in full swing, the British marque wants to sell up to 2000 units in 2016.
Details about the car remain scarce other than the fact that it will indeed sit below the McLaren 650S and according to previous reports, rival the likes of the Porsche 911 Turbo, Nissan GT-R and Mercedes-AMG GT. Additionally, the firm recently confirmed what we already knew; it will feature a carbon fibre monocoque as well as a mid-mounted V8 expected to be very similar to the 650S' powertrain.
As a matter of fact, it will displace the same 3.8-litres and feature two turbochargers but be detuned to the 500 hp region. A few months ago, reports actually emerged suggesting it would be called the McLaren 500S as a result of this.
The McLaren Sports Series will be a range of vehicles and is expected to include a coupe, convertible and track-focused variant with each set to receive their own individualised names.
[Via CNBC]