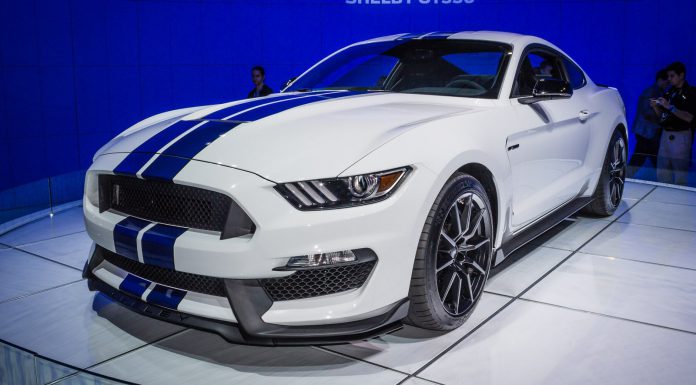 The first 500 hp-plus Ford Mustang has been unveiled at the Los Angeles Auto Show 2014. The Ford Shelby GT350 Mustang packs a race-inspired flat-plane crank V8; the most powerful naturally aspirated production engine Ford has ever built! We took a closer look at the pony car on the show floor!
The engine in question is a 5.2 litre V8 unit. It is said to be as lightning-fast and responsive as a racing engine. A lightweight six-speed manual transmission sends power to the rear wheels through a standard Torsen limited-slip differential. The Ford Shelby GT350 Mustang is said to offer more than 500 hp and 400 lb-ft of torque.
All bodywork from the windshield forward is unique to the GT350. It gets a more aggressive hood, a wider front track, stiffer suspension and uprated brakes. It sits two inches lower to the tarmac than the standard Mustang GT. The driver gets to choose from five performance modes that adjust ABS, traction control, stability control, steering effort, and throttle mapping.

For more details on the Ford Shelby GT350 Mustang, take a look at our earlier article. For all the latest news from the Los Angeles Auto Show 2014, take a look at our dedicated news channel!