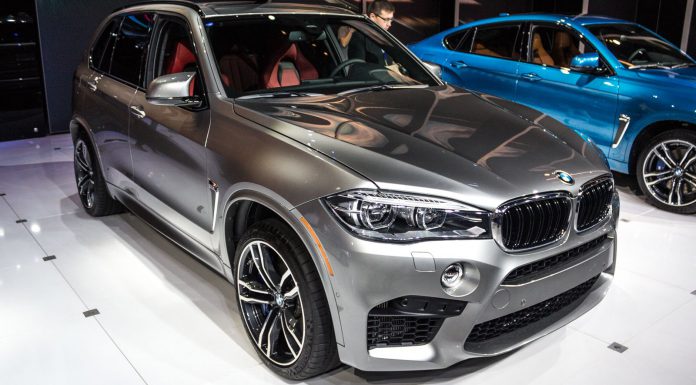 BMW have taken the covers off the BMW X5 M here at the Los Angeles Auto Show 2014. The performance SUV will likely sell extremely well out here. Small changes over the previous generation car make the BMW X5 M better than before. We took a closer look at the car on display at the BMW stand!
The X5 M gets a familiar twin-turbocharged 4.4-litre V8 engine. Power is boosted by 12 hp and 53 lb-ft resulting in final figures of 567 hp and 553 lb-ft of torque at a very low 2,200 rpm. With launch control enabled, the BMW X5 M is capable of sprinting to 100 km/h (62 mph) in a brisk 4.2 seconds. It manages an economy rating of 11.1-litres of petrol per 100 km which is about 21.1 mpg in the United States. CO2 emissions sit at 258 g/km.
Other changes include a brand new eight-speed M Steptronic automatic transmission which feeds power to BMW's revised xDrive system. Changes to the suspension include new upper wishbones, stiffer springs for a 10 mm drop in ride height and self-levelling air suspension for the rear wheels. Three different modes are available for the suspension; Comfort, Sport and Sport+.

For official details on the BMW X5 M take a look at our earlier article. We have plenty more to come from the Los Angeles Auto Show 2014 so feel free to take a look at our dedicated news channel. You will be able to see all the latest news, pictures and more!